To say 'Hi!' to a stranger and strike a conversation with people is not an easy feat for someone who is shy by nature. In fact, social interaction is not their cup of tea and they much rather prefer to avoid it. Some of us here are not only shy but also introverts in nature.
As these two traits walk together hand in hand, there is no doubt that some of us here naturally avoid interacting with people or have a fear of social interaction.
Here we have Ashlea Mok who fits the bill. As someone who is both introverted and shy, she was determined to switch things up for herself in university. As such, she took the first step to break out of her little bubble to push herself to try new things.
How did she do it? Can an introvert really break their introversion bubble? With these questions in mind, we spoke to Ashlea, an Actuarial Associate at EY, who shared her story of how she overcame her fear of interaction, and some networking and internship tips too!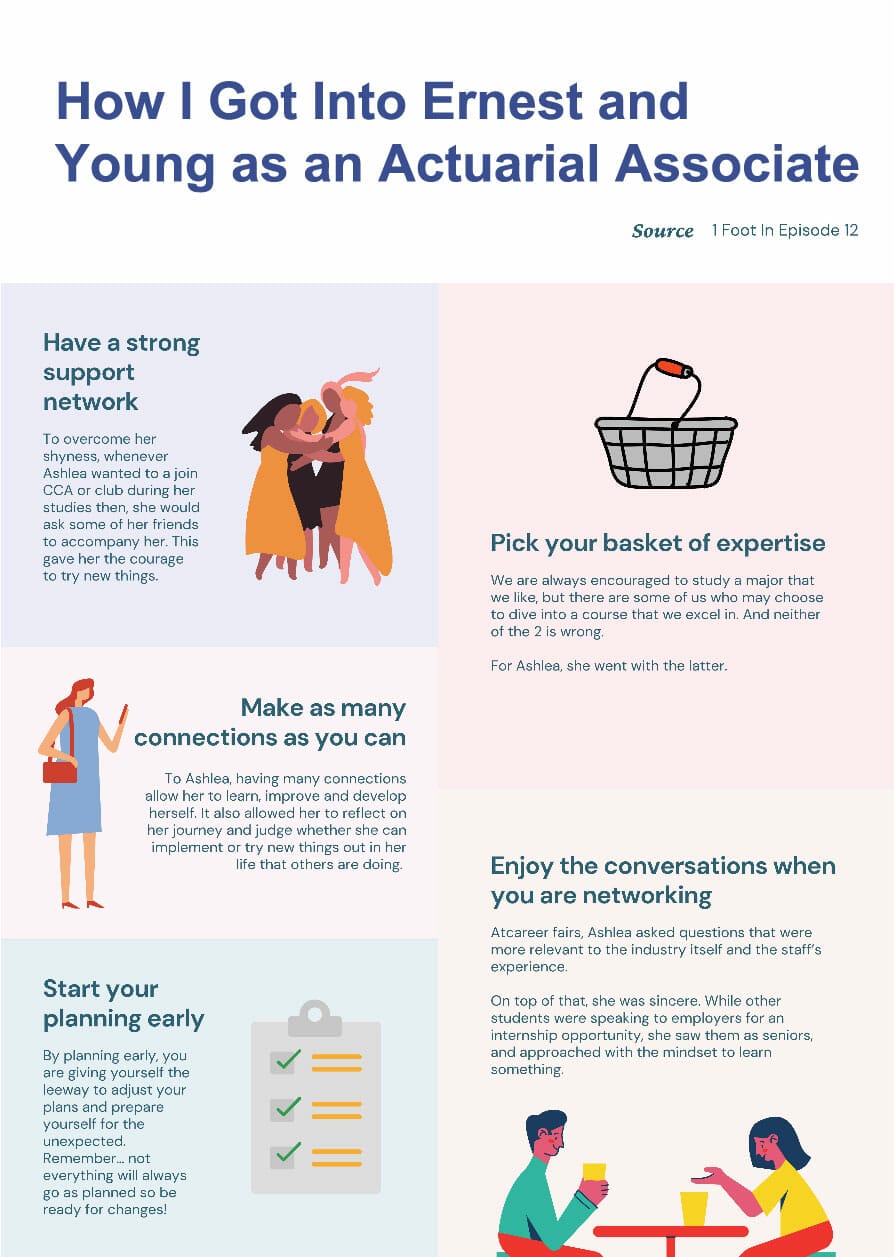 Have a strong support network.
"I was always known as the shy one since young."
Ashlea was never the chatty and outspoken person when she was younger. In fact, she had a fear of speaking to strangers and avoided any chances of social interaction.
However, after her JC, Ashlea was determined to change this trait of hers. Instead of avoiding conversation starters with anyone, she was motivated to start a conversation with people and make as many friends along the way. With this mindset, she began her journey.
As she walked down memory lane with us, she recalls the process was initially daunting for her. But she acknowledged her family and friends as her greatest sources of strength for her during the entire journey of exiting her little bubble. We ask her for examples of how she did it and here is one which she vividly remembers. When Ashlea wanted to a join CCA or club during her studies then, she would ask some of her friends to accompany her.
Why? Well, there was a sense of familiarity and this also gave her the courage to continue venturing out of her comfort zone to try new things. With this, her friends have helped her a lot as Ashlea became a new person. As she worked hard, she also played hard with her active student life.
In fact, we think you will be surprised to hear about her active engagement on campus!
From a shy individual, she grew during her journey with the presence of a strong support network, who was there to cheer her on. (Here's another individual who agrees that we should all have a strong support network – our ride-or-die – and how he is appreciative of his friends during his studies too.)
Make as many connections as you can.
From a shy individual to someone who is brave to try new things, Ashlea's journey did not stop there. She shares that another thing she wanted to do was to connect with many people be it whether they become her friends or acquaintances.
While many may think having many connections is for career purposes, it is different for her.
To Ashlea, having many connections allow her to learn something from them so that she can further improve and develop herself. Through the newly forged connections, Ashlea learnt multiple things from others. It also allowed her to reflect on her journey and judge whether she can implement or try new things out in her life that others are doing.
For example, she shared how she learnt undergraduates can take up a full semester internship during their studies, and that motivated her to do the same. With the goal to complete a 6-month internship, she went to find more about the hows and began to prepare herself for her future.
We have always been encouraged to make as many connections as we can during our studies for career purposes, but after listening to Ashlea's experience, we have a different take towards networking – we are also able to learn from one another's experiences that can help us grow.
Of course, we sure learnt something from Ashlea today after forming this connection too, didn't we?
Start your planning early.
"Planning is very important," says Ashlea, as she stresses the importance of this step during the chatter session.
After discovering the opportunity to do a semester internship, Ashlea began to plan the next 4 years of studies. (We were just as shocked as you.)
During her freshman studies, Ashlea did not only plan her year 1 timetable but also up to year 3 and 4. She allocated what modules and the number of modules to be taken each semester so that she was able to embark on a 6-month internship in year 3.
Apart from that, she also made sure she was able to graduate on time with her peers instead of extending her studies by a semester.
Ashlea adds that planning allows you to be more prepared to work around obstacles should they pop up in the future. For her, she definitely stumbled into an unexpected event in her year 2, but as she began her planning earlier, she was able to tweak and make the adjustments accordingly. By planning early, you are giving yourself the leeway to adjust your plans and prepare yourself for the unexpected. Remember… not everything will always go as planned so be ready for changes!
Pick the basket of expertise that you are better in.
We are always encouraged to study a major that we like, but there are some of us who may choose to dive into a course that we excel in. And neither of the 2 is wrong.
For Ashlea, she went with the latter.
Initially, she wanted to specialise in Banking & Finance (B&F) and was interested to join that industry in the future. In fact, Ashlea never expected to see herself working in another industry. Well, look at where she is now!
She recounts that during her studies in NBS, she was doing better in Actuarial Science (another specialisation) compared to B&F. As she realized this, she decided to explore the specialisation more to better understand it. Since Ashlea was stronger in Actuarial, she chose it as her specialisation.
Despite her initial interest in B&F, Ashlea recognised her potential to excel in Science and decided to develop her skills in the field instead of sticking to B&F. She also started to build her portfolio that was catered towards the industry and eventually found her footing as an Actuarial Associate and is working at EY now.
Curious to find out what an Actuarial Associate's job is like? Tune into the episode and let Ashlea shares about her current position and what she does now!
Enjoy the conversations when you are networking.
While networking is important as it helps to build your connections, it is also important to enjoy the process of it.
Most of the time, the purpose of networking is to seek a job/internship, even at career fairs. However, Ashlea advises us to be genuine during the process instead of carrying the mindset of wanting an internship.
For her, networking is a way for you to learn something new about the industry from a professional who has many years of experience. During a career fair, Ashlea and her friends were given the opportunity to interact with employees from various organizations. She points out the things that allowed the trio to stand out from the others were their behaviour during the conversation and the kind of questions they asked.
Ashlea highlights that students will usually ask questions such as 'What is the culture like?' or 'What are your expectations?'. While these questions are good to learn and better understand the company, the hiring managers are already prepared to answer them.
As such, instead of asking such questions, Ashlea asked questions that were more related to the industry itself and the staff's experience. She also mentions how they dove into varying topics – from recent news to pension topics and CPF – which made it the conversation engaging.
While she stood out due to the type of questions she asked, her sincerity throughout the conversation may be the other factor. While other students were speaking to him for an internship opportunity, they spoke to him as a senior and the mindset to learn something.
So… maybe it is time for us to change our mindset when it comes to networking too – be genuine, and really just enjoy the interaction. (Another individual, who we have spoken to, shared the same sentiments and provided some tips of hers to step out from her introversion bubble too!)
"It is always going to be challenging. It is always going to be difficult but you shouldn't be too hard on yourself."
Ashlea closes off the chit-chat session with this to encourage us all not to place too much pressure on ourselves. We have our own journey that differs from one another, so there is no competition for who is faster. Take it easy and just do your best in everything – things will eventually fall into place.
You can also follow us for upcoming episodes on our podcast which will be featuring fresh graduates who have made it to Amazon, FMCGs, etc.
---
Exclusively written for INTERNSG by: Guang Jin (Grehg) YEO, the creator of the podcast 1 Foot In. The podcast introduces the listeners to someone who has made it into the top/fastest growing companies in the world. From what they did in university, tips & tricks during the resume & interviews and things they wished they could have done if they were to do it all over again.