Some of us are from the top 3 universities – NTU, NUS, or SMU. However, some of us are also from other universities. And there's the perception that graduates from the latter may face more difficulties when searching for internships/jobs.
But is it true? Is the search for internships/jobs more difficult for them?
Turns out the answer is a yes.
Here we have Wilnel Yeo, who agreed that it was tough for her during the initial stages of her application process for either internships or jobs. However, she highlighted that such difficulties stemmed from her personal insecurities as she felt inferior against other candidates who were from the top universities. Yet, she overcame them with the change in her mindset and attitude.
So, we spoke to Wilnel to learn how she defeated her insecurities and built her confidence, along with some interview and life tips, which guided her to her current role in Accenture as a Business & Integration Arch Analyst.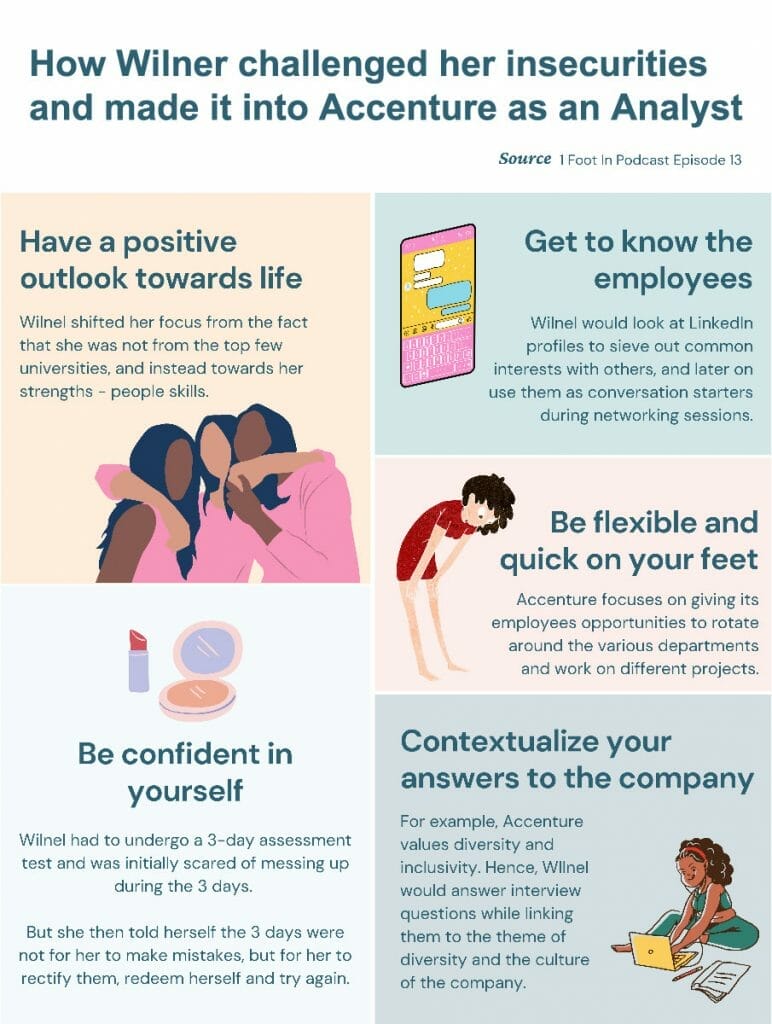 Have a positive outlook towards life.
Wilnel opened up during the sharing that one of her insecurities was the institute she was from. She was a graduate from SUSS that is not regarded as the top 3 universities. As such, she was afraid that her chances were reduced when placed against other candidates from top-tier universities during the candidature period.
However, instead of allowing herself to stay stuck in that mentality and to worry about it, Wilnel decided to change her thinking to an optimistic one.
She told herself that she has an equal chance at the position like the rest and that she could tap on her strengths to position herself well. And one of her strengths is people skills. Being an outgoing person who enjoys conversing with others, conversation starters are easy for Wilnel. As such, she is able to put this trait to good use during interviews where she actively engages with the interviewer to discuss other topics of interest.
Wilnel also shared that she constantly told herself to stop focusing on the fact that she was not from the top few universities, and that she has strong skills which can portray her in a good light. She also added that hiring managers these days do not take note of which university the candidate is from, and focused on other criteria instead. With the change in her mindset to an optimistic outlook towards life, Wilnel soon overcame her insecurities and also evolved to become a more confident person in herself.
Be confident in yourself.
Apart from the change in mindset in life, Wilnel also shared that it helped her to "be confident and be (herself)".
Going back to her insecurity, Wilnel also shared that she was afraid of making mistakes during the interview process or assessment test. For example, she had to undergo a 3-day assessment for one of her applications and she was initially scared of messing up during the 3 days.
"But I told myself the 3 days were not for me to make mistakes, but the 3 days were for me to rectify them, redeem myself and try again."
She also calmed her nerves down by telling herself that she was chosen for the assessment as she had the technical skills that were required, which gave her the confidence boost to trust herself to do well during the assessments.
Wilnel also shared that you have to do your preparation work for the interview such as learn more about the company and what they are looking for in the candidate. Gather more information about the interview or assessment rounds from online sites like Glassdoor or connections who have attended it before.
And this was how Wilnel slowly built her confidence in herself and became who she is today. (Here is another graduate who shared her tips on how to be yourself! Tune into her episode to check it out!)
Get to know the employees and not just the company.
For most of us, Google & Glassdoor are our best friends when it comes to learning about the company such as the culture, the working life or to find out more about the interview rounds. But for Wilnel, her best friend is LinkedIn.
She also added that although learning about the company's culture and the job is important, finding out about the employees is just as essential. And this is how Wilnel used LinkedIn to learn about the employees who are working at the company.
(No doubt, this is how Wilnel actively used LinkedIn the way we use Instagram!)
So, what or how does Wilnel use LinkedIn? After poking around a little, Wilnel shared with us her tips to use LinkedIn.
While we form connections on LinkedIn, Wilnel pointed out that the platform allows us to learn about others' interests through their profiles. For her, she will take a longer look at their profiles to learn about their interests and see whether there are any common topics between them. From here, Wilnel will use them as conversation starters during networking sessions. This also allows her to form a genuine connection between the other party and her.
Be flexible and quick on your feet.
During the discussion, we asked Wilnel to share with us a tip for those of you who wish to seek a career with Accenture. So, this tip is especially for you guys (and everyone actually)!
Wilnel revealed a trait that one should be equipped with is adaptability that is extremely essential for Accenture's working environment.
Accenture focuses a lot on diversity which is also applicable to its work. Wilnel revealed that the employees are given the opportunity to rotate around the various departments and work on different projects. As such, they do need to switch between industries based on the projects that they are assigned to.
Hence, Wilnel emphasised strongly the need to be flexible and quick to adapt to the changing environment to understand and cater to the clients' needs. She talked about her first project at Accenture where she was placed in the healthcare industry, where she lacked the relevant knowledge. However, she was able to adapt to the new environment fast and execute her duties well.
If it helps we have another graduate who agreed that being flexible is crucial and shared about his experience at Adidas where he was rotated around the various departments in the company.
Contextualise your answers to the company.
While some of us customise our resumes according to the job position/company, Wilnel tailors her responses to the company during her interviews. Curious to find out how?
Here's her secret!
When Wilnel prepares for her interviews, she will use Glassdoor to read about users' posts if there are any, and also the company's website to understand the company's culture and working environment. She will also ask around her seniors or friends who have worked in the company before to find out how the process was like or the questions that were asked.
With these, Wilnel will craft her responses and customise them according to the company. For example, Accenture values diversity and inclusivity a lot in their organization, and she thought of ways to answer the various questions while linking them to the theme of diversity and the culture of the company.
It is not an easy thing to do, but she dives into it in detail and provided examples on how to align your answers to the questions.
"It's okay to not know what you want to do…now."
As an undergraduate, it is perfectly fine to be unsure of what you want to do in the future. Instead, enjoy doing what you are doing now and pursue it. As you continue down this path of seeking what you enjoy, you will eventually find your footing!
You can follow us for upcoming episodes on our podcast which will be featuring fresh graduates who have made it to Amazon, FMCGs, etc.
---
Exclusively written for INTERNSG by: Guang Jin (Grehg) YEO, the creator of the podcast 1 Foot In. The podcast introduces the listeners to someone who has made it into the top/fastest growing companies in the world. From what they did in university, tips & tricks during the resume & interviews and things they wished they could have done if they were to do it all over again.