2020 saw major changes to how we work. The home, our place of rest, has also doubled as a place of work when the lockdowns were enforced. While Singapore is opening up slightly, teams are still having staggered schedules for returning to work so as to prevent the rise in cases again.
This work arrangement has seen employers saving on financial costs. You probably have also noticed a reduction in absenteeism and employees being late as they no longer have to step into the office to have work done. With another rise in different mutant COVID-19 strains, work from home is definitely here to stay for a while. Here are 5 strategies that managers can employ to reap the benefits of working remotely!
Have in place a communication Standard Operating Procedure for your team to refer to
We know that face-to-face interactions are the best way to minimise room for miscommunication. Having a SOP for your employees to communicate with you while working from home is a means to clearly express your expectations with your employees. This SOP may include assigning different mediums of communication to how urgent they need to communicate with you and them.
This helps them to understand which tasks should be prioritised. Additionally, having such clear demarcation between communication mediums helps your team to use them more effectively.
Use project management tools or have a template which your team can use for daily updates
The work from home arrangement allows for your team to work from a place of higher comfort. It is only realistic to assume that the levels of motivation are not consistent throughout the team. Additionally, you also have less supervision over how your team works. As such, it is key to have everyone on the same page when working on different projects. As a manager, how can you create a middle point where different work styles converge such that all your team members can work productively?
This is where you may consider using project management tools such as monday.com that shows the progress of your projects. However, it is agile enough to accommodate across different work styles. The beauty of these tools is that all members can track their work performance too so it helps them keep track of their KPIs without you having to chase them for work.
Focus on the quality of work rather than the quantity of work produced
Previously, when your team was working in the office, their work hours played a part for how they are remunerated. However, doing so in a remote working environment may decrease your team's productivity. The remote working environment shifts productivity metrics to deliverables rather than hours worked. As such, to motivate your team to work better, it is better to focus on the quality of the work done than quantity produced ( which may fall short of standards). Additionally, this impresses upon your employees that you reward good performance and effort more so in this environment.
Schedule for weekly check-ins
When we are working in silos, different team members would usually have different interpretations of where your company is going.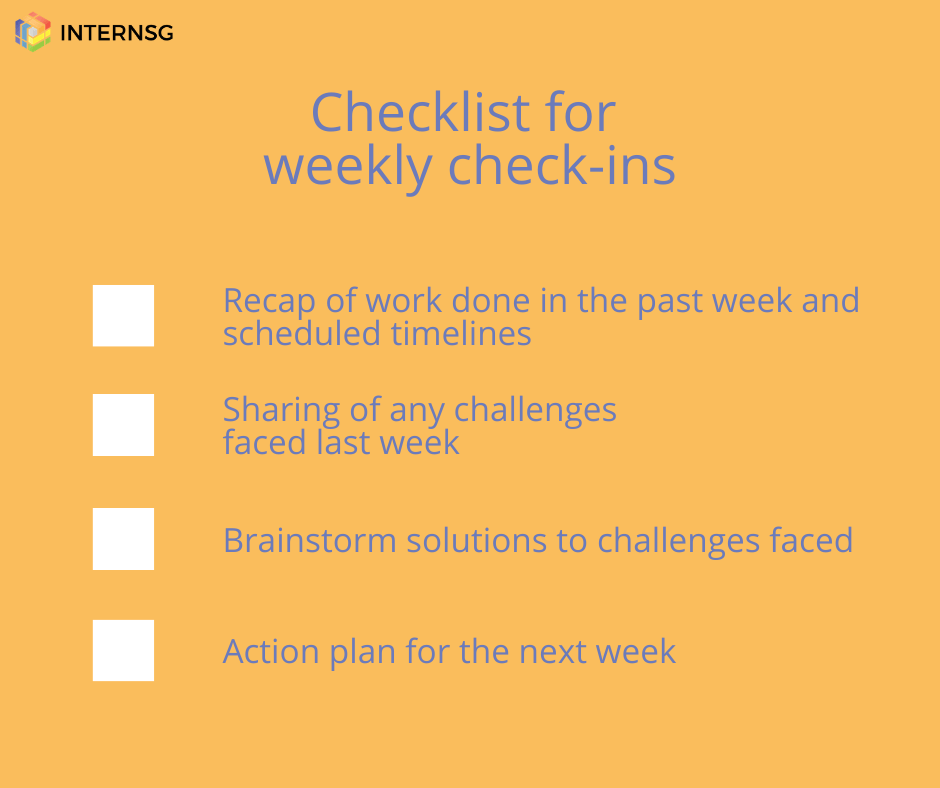 In order to ensure that everyone is on the same page, it is important to schedule mandatory weekly check-ins with your team members both as a group and individually over video call to hash out any doubts. You don't want your team members to waste their week's effort to be told that their work was irrelevant. This would dampen your team's productivity.
Acknowledge their good work by using emojis over text
As you will be communicating with your team members over text more often, tones and body language will be omitted in the midst of texting. It is not wise to assume that your employees would interpret your text as you meant them exactly. As such, make use of emojis to express your appreciation for their good work. It is in these small moments that you are able to motivate your team to continue their good work.
The list of work from home tips for managing your remote team are non-exhaustive. Each manager has their own style of motivating their teams. If you found these tips helpful, you may include them to help improve your remote team's productivity.
INTERNSG is a one-stop site for managers and employers to list internship/ job opportunities available at their companies. Interested candidates will then reach out to your company directly. Looking for talents to help your company grow? List your internship offers with us today!