If you weren't convinced by our previous article about grooming interns, you might change your mind after reading this article. Recently, we had a chat with Marketing Manager, Mr Shawn Lin, at Ezbuy to get his perspective on working with Gen Z interns.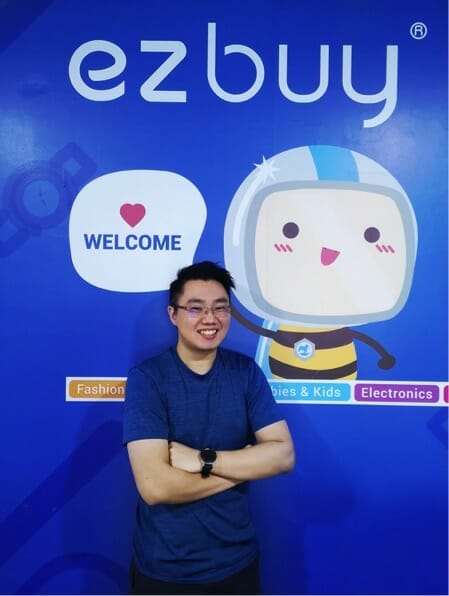 Established in 2010, Ezbuy was founded as a solution to Singaporeans' shopping woes. Through services such as purchasing, inspecting, consolidating and shipping, Ezbuy became a one-stop shop for overseas products. Ezbuy's end-to-end services make online shopping a fuss-free experience for its clients.
Despite fierce competition in the ever-evolving e-commerce market, Ezbuy has managed to stay relevant by consistently improving its logistics solution and user experience.

Mr Lin, who heads the marketing department at Ezbuy, holds the belief that it is crucial for his team to be effective in order to drive productivity. As a firm believer of "teamwork with synergy where everyone utilises their skill sets and strengths to complement one another," Mr Lin deliberately assigns at least two members to every project.
A Culture of Collaboration

The e-commerce industry is one that is dynamic and ever-evolving. Perhaps it is for this reason that Mr Lin finds it "important to cultivate a fun and enjoyable environment, in order to encourage more creative innovations."

At Ezbuy, everyone's voice is heard. According to Mr Lin, Ezbuy emphasises on "intrinsic motivation through engagements and communications with colleagues at all levels."

"Ultimately, collaboration creates more creative ideas and effective solutions."

More Than Just an Extra Pair of Hands

To Mr Lin, interns are more than just an extra pair of hands at work.

Over the years of working with interns, Ezbuy has entrusted them with major responsibilities. Currently, their interns are assisting full-time employees with social media management, social media content creation, sales and promotion campaigns, as well as product curations.

"Conversations for new ideas are crucial. I always spark discussion among my team on how we can do things differently and create better solutions to meet customers' needs."

"We are very appreciative of the fresh perspectives and new ideas that they have contributed to the company. Majority of our interns belong to Generation Z and there have been many times when they really wowed us with brilliant ideas that even experienced marketers have not thought of."
Mr Lin further shares that interns have also contributed in terms of helping with social content generation, which leads to traffic and sale leads.

Interns also provide an extra pair of hands and involvement in Ezbuy's offline roadshow or online activities & events like Facebook Live and video curation.

Interns Make Employees Better Leaders

Apart from highlighting the interns' abilities to be creative and innovative, Mr Lin observed that having interns onboard helped to hone the leadership skills of Ezbuy's full-time employees.

"Placing interns in the marketing department has allowed my full-time colleagues to practise their leadership skills. Often, we have to mentor and guide the interns during their journey with us."

Mr Lin dispels the "head in the clouds" stereotype that typically surrounds Gen Z. In his opinion, interns can be a very valuable asset to the company when given sufficient training and guidance under good leadership. Managers and supervisors should play an active role in training interns.

Interns at Ezbuy have also been retained for full-time positions. When asked to elaborate on why these interns stood out, Mr Lin responded that the interns who "demonstrated a strong sense of responsibility as well as a positive and proactive working attitude" left the most favourable impressions.

Like most employers, Mr Lin appreciates interns who go above and beyond what is expected of them, in particular, those who are willing to "go the extra mile with the team."

Would Mr Lin advise fellow SMEs to hire and groom interns? The answer was a resolute yes.
Ezbuy is currently hiring interns for their marketing department. If you are interested in a position at Ezbuy, drop them an email at