This time, we have with us Athena Foo, who's currently doing her internship with a theatrical company by the name of, 'Cake Theatrical Productions'.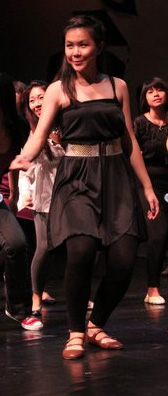 [InternSG]
It has always been InternSG's interest to interview a student who's involved in the arts scene, especially when it's an internship with a theatrical company. Tell us more about yourself.
[Athena]
I'm currently a third year Theatre Studies undergraduate at the National University of Singapore, NUS. I've always been involved in the performing arts, particularly dance, since I was a kid, so it kind of led to a natural interest in the arts industry. I guess I can say that by the time I was in my teens, I kind of knew I wouldn't be taking the "science and mathematics" route like many of my peers, and pursued the arts and humanities track from junior college onwards.
Back in secondary school, my English tutor told me about the Theatre Studies program in NUS, so when I got into NUS, I took the exposure module in my first semester and decided to major in it. In the midst of getting to know my fellow Theatre Studies course mates, I realized that my knowledge and experience of the theatre industry was limited only to dance and school performances. Some of them were already dabbling in professional projects outside of school and that really drove home the point that I needed to start putting myself out there as well.
[InternSG]
Tell us more about the Art scene in Singapore.
[Athena]
There are definitely more people supporting the local arts scene as compared to a couple of years back. Singaporeans are generally becoming more open and receptive to the arts, and the notion that the arts is something that is "too atas" is fading. There are also more people getting involved in the arts scene, whether through volunteering or understanding what the local arts scene is doing, where they are going. You get people from all walks of life wanting to be immersed in the arts in one way or another, not just people who are already doing something creative/art related.
[InternSG]
How do you think should most Singaporeans while pursuing their careers with a hectic lifestyle relate to the arts scene.
[Athena]
The first thing you can do to relate to the arts scene is to simply be an audience. I know some people are afraid that they won't be able to understand anything and don't want to spend the time and money as such, and would rather spend whatever free time they have catching a movie or something that they know they will enjoy. The beauty of the arts is that it's not always about understanding everything in the play. It's also about how the play makes you feel after. For me, theatre appreciation was actually an acquired taste as I took a deep interest only after I start university. I simply got myself to watch more shows (despite my busy school schedule), local and international, and gradually found myself enjoying every show and looking out for the next one. Of course, the things I'm studying in school definitely helped.
Besides being an audience, you can also take part in the arts scene by volunteering or by going for activities, workshops, classes. There will always be workshops for you to try something new and to engage your creative side, which is so important. For me, engaging your creative side is akin to doing sports and exercises to keep your body fit. Immersing yourself in the arts keeps you alive.
[InternSG]
You mentioned your peers were already actively pursuing professional projects, are they juggling both studies at the same time?
[Athena]
Yeah, although now that we're in our third year, our studies definitely take priority!
[InternSG]
Are they pursuing fields of study that are different from their passion, I.e performing arts? Any reason why?
[Athena]
When I mentioned my peers, I was largely referring to the other theatre majors in my year. Some of them are teaching drama in primary and secondary schools, one of them recently applied for license for his play to be staged publicly and got approved, and a couple of us have interned with professional theatre or theatre-related companies. So I guess I can say they are pursuing fields of study related to their passion. My peers and I chose to major in Theatre Studies precisely because it is, or is one of our interests and passions.
[InternSG]
How does one who wants to start experiencing professional projects while studying begin his/ her journey like yours?
[Athena]
Just apply to a company you want to work at, say why you want to do this and be brave. Don't be afraid of rejections, and more importantly, don't be afraid that you won't be able to contribute or do anything because you lack experience and knowledge. From a personal point of view, I usually tell people to do internships during their vacations because then you can give all your attention to the internship without having to worry too much about school work. Before I applied to intern at Cake Theatrical Productions, I have never done any professional shows, save for one dance performance with the Singapore Dance Theatre when I was eight but that was so long ago, and all my arts experiences were limited to school events. I knew very few, like one or two professional theatre practitioners unlike some of my friends, and basically I had zero experience. But I applied anyway.
The most important thing is that once you get to be part of a professional project, or have secured your internship is to be very open to whatever comes your way and pick up fast. Be very observant, don't be afraid to talk to people and ask questions, and learn fast. Actually, these things apply to any industry and are things that we all know. But funnily enough, you realize how tricky it can get to be all that when you are actually in the situation itself. And yes, a good attitude is so vital, especially when you are starting out.
[InternSG]
How's your current internship coming along?
[Athena]
My internship ended in August actually and I was quite sad to leave! But they've asked me to intern with them again next year and I'm definitely game.
On the whole, I am very satisfied with what I have gotten to do during my entire internship. The company actually asked me what I wanted to get out of this internship when I applied and made a conscious effort to put me in positions where I can pick up the skills I want to acquire throughout! I asked to learn more about stage and production management, and from the time I started my internship with them, I went from being a stage hand and front-of-house helper who served drinks and tore ticket entry stubs, to a sound operator and finally a stage manager over three productions. It was definitely way more than I asked for because I thought they'll just get me to assist and observe a professional rather than you operating sound cues and similar activities by myself. You need to just jump and do it, or you'll never learn. Of course, I still have a lot of things to learn and I intend to continue learning from professionals as much as I can.
Other than those, they've asked me to help construct props and sets, act for school assembly shows and other things here and there like write-ups for their in-house set design company. These things were also very useful because they help you in your understanding of all the different factors that go into a show in one way or another, and that's also when the company gets to see how versatile you are. Like I said, you need to be very open because in the theatre industry, for those of us starting out, most companies will ask you to do everything, even sweeping the floor. No one starts out just acting or just directing. It's part of the collaborative culture that theatre companies are known for.
That said, I'm also very aware that I had been privileged to work in a very wonderful environment like Cake where the people there are super supportive and care about being part of my growth there. Their culture of being supportive towards young blood coming into the theatre industry was one of the major reasons why I chose to intern with them. The people there are so passionate about what they do and that inspires me.
[InternSG]
What advice would you give to younger students who aspire to become like you yet face the challenges of peer pressure and parents' influence to focus in mainstream studies, e.g. Medicine, Law, Business, Engineering or Computing?
[Athena]
Well, at the end of the day, it is really all up to you. If you believe in pursuing a career in the arts, then go for it. The people who matter will usually come round. I understand what it's like to be worried that your parents and your peers may initially be apprehensive about your decision. I think what parents are worried about is when you say you want to do theatre but you don't really have a clear direction of what you want to achieve out of this career path. I would be worried too if I were like that. My parents are assured of my decision and are supportive because I've made it to clear to them that I aspire to be a stage manager and hopefully become a producer one day, and that I have specific goal in life. Theatre studies isn't a course on acting or directing, or designing sets, props, costumes, lights, etc. Besides training you to appreciate theatre and ideas that influence it, more importantly, like any other courses in university, it trains you to think independently, critically and to be tolerant of different opinions. It's just that some people are trained to think better when they pursue medicine, law, business, architecture, engineering or economics. Theatre studies is no different. I feel that I can become a better person and a better thinker when I study about the theatre. Same end, different routes.
As for the money bit, well, I can understand what your parents and your peers mean when they say theatre is not where the money is. But it's not always true. I believe if you're good in whatever you do, money will come to you. It's only when you're dispassionate and lousy at what you do that you'll find yourself struggling to feed yourself! Even if you study law and become a lawyer, if you don't like what you do and find it meaningless, you won't do well in your career. Besides, if everyone in this world became a lawyer, doctor, engineer, business man or teacher, the world will be a very boring place.
A taxi driver once shared this anecdote about life with me: "A (money) note has four legs. You have two legs. If you chase after money, you will never catch up. But if you hone your talents and skills and do what you are truly good at, money will chase after you and having four legs, will definitely catch up with you."
[InternSG]
How can our readers reach you?
[Athena]
They can drop me an email at
---

We hope you like the "Featured Student Write-ups" article series. If you are someone, or you know of someone who has an interesting background (having great excellence in extra-curriculum activities, or possessing special talents, or can write really interesting articles), don't miss this opportunity to be featured in this write-up series on InternSG: the most popular internship portal in Singapore!
Please feel free to with a short executive summary of yourself (or the person you are referring to), and we will get back to you with more information.