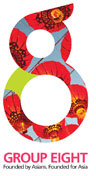 Group Eight is a Singapore based unconventional full service advertising agency. It is one of the most awarded agency in Singapore. The agency has won 6 Singapore Outdoor Advertising Awards, 3 Asia Outdoor Advertising Finalist, 4 Asia Advertising Awards, 4 Asia Travel & Tourism Creative Awards and 2 Asia Interactive Award. The agency has also set/broke 6 Singapore book of records as a result of its work.
It has network partners in the region including – Singapore, Kuala Lumpur, Ho Chi Minh City, Hanoi, Bangkok, Hong Kong and Shanghai. Group Eight has worked for brands including General Motors, Fuji Xerox, Porsche, Apple, Kraft, Microsoft, AirAsia and NBC Universal.
Here's your chance to join Group Eight as a Social Media Intern!