The Singapore government has once again announced additional support measures to provide temporary financial support to workers who have been affected by the economic impact of COVID-19. In tandem with this, the Government has also invested heavily into the SkillsFuture movement during the pandemic, which aims to create an integrated ecosystem of education and training for adult learners. The changes in profitability of different industries, coupled with the shift in the way businesses are conducted (e.g., telecommuting) , have also brought about a paradigm shift in learning methodologies.
Online academic classes, remote work training and even virtual internships have now become the new norm. There has also been a huge increase in the uptake of educational technologies like MOOCs. Consequently, employers' expectations have also changed to positively view candidates who demonstrate a keenness to learn and improve their skills. It is also common to hear career coaches advocate the benefits of showcasing one's pursuit for lifelong learning during job interviews. As users of INTERNSG, you already understand the importance of earning practical experiences to augment your learning capabilities.
Having heard all this, what are some of the most effective and practical ways (cost and time wise) to prepare for the future of work? Let's learn how the trend points us towards microlearning and externships.
Microlearning, Reskilling and Upskilling
In 2020, 39.1% of the Singaporean workforce held a degree – the most in history. But while we might have the most educated population ever, these degrees are not necessarily giving people the practical work skills they need. That said, we know that upskilling and/or reskilling can be an intimidating consideration in view of competing commitments. As it turns out, microlearning is one trend that fits snugly into today's fast-paced lifestyle. Microlearning courses are self-paced digital courses, delivered in bite-sized sessions with memorable training activities and assessments to reinforce knowledge and acquire skills.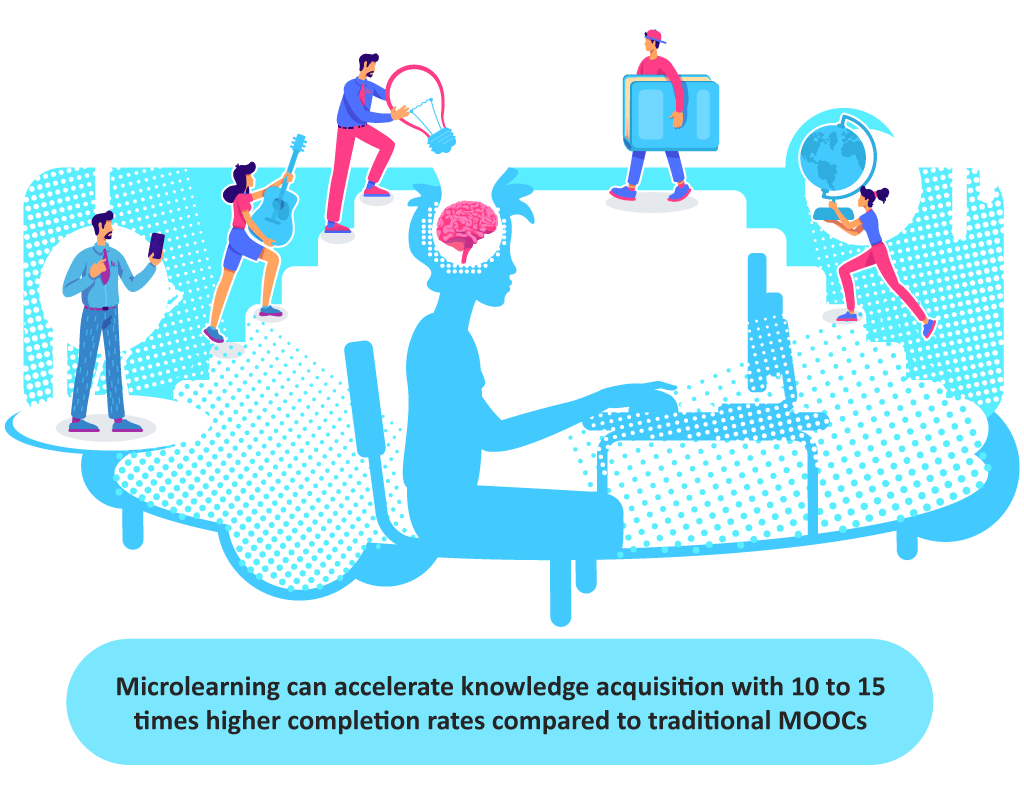 While it may sound unbelievable to learn a new skill with just 10 minutes a day, research on adult learning has proved otherwise. Research shows that microlearning reduces the potential for mental fatigue by alternating between focusing and breaks. This repeated pattern of spaced learning methodology helps transfer new information into both short- and long-term memory, which is how we learn and grow our knowledge. Gnowbe, a leading microlearning platform, has also shown that it can accelerate knowledge acquisition with 10 to 15 times higher completion rates with its multimodal learning platform compared to traditional MOOCs.
Microlearning sounds like a surefire way to upskill and boost employability. This learning methodology has also been used to improve on-the-job performance. In a study involving hospital clinicians, new clinicians were given access to latest COVID-19 news and information through bite-sized audio clips lasting between 5 to 10 minutes on their mobile, which helped to expedite their onboarding and decision-making when making hospital rounds. Not to mention, with a mobile-first platform, clinicians were able to learn anytime, anywhere and on any device.
As you can see, continuous learning is invaluable to both students and working professionals. On this note, we are pleased to share that INTERNSG has partnered with SkillsFuture Singapore and Gnowbe, a leading education brand, to launch GnowbeLearnTM, the world's first subscription-based microlearning library.
Like a Netflix subscription, learners can enjoy unlimited access to over 300 microlearning courses written by world-class experts like KPMG, Mercer, NEXLeaders and Temasek Polytechnic, which start as low as SGD$11.67/month. Users can get certified in various course categories, ranging from digital marketing, data analytics and cybersecurity. From September, Singaporeans may offset their subscription with SkillsFuture Credit. So don't hesitate, subscribe today!
Internships, Traineeships and Externships
Now, let us shift our focus to practical learning. Internships are considered an integral part of professional job preparation for undergraduates and graduates alike. With the pandemic, traineeships were introduced for mid-career switchers. The difference between an internship and a traineeship is that the former is structured for one to gain practical learnings in a field of study, while the latter allows one to pick up vocational skills in a specific profession. In Singapore, there is little contextual difference between the two, apart from the fact that traineeships were popularised in 2020 during the pandemic, when the Government funded about 21,000 traineeship programmes to help workers upskill for the future of work.
As of February 2021, 47.6% of students and graduates in Singapore have undertaken at least 1 formal internship with an employer. In the new normal, employers will place more value on candidates who are highly adaptable and possess proactiveness to learn future-ready skills. To edge out in the race for employability, the lesser-known but equally useful elements are externships and micro-internships. During an internship, interns spend anywhere from a day to a few weeks getting exposure to work where the stint (usually in the form of job shadowing) is short, unpaid, and informal. The word externship comes from the combination of "experience" and "internship". Micro-internships are similarly short-termed but paid assignments.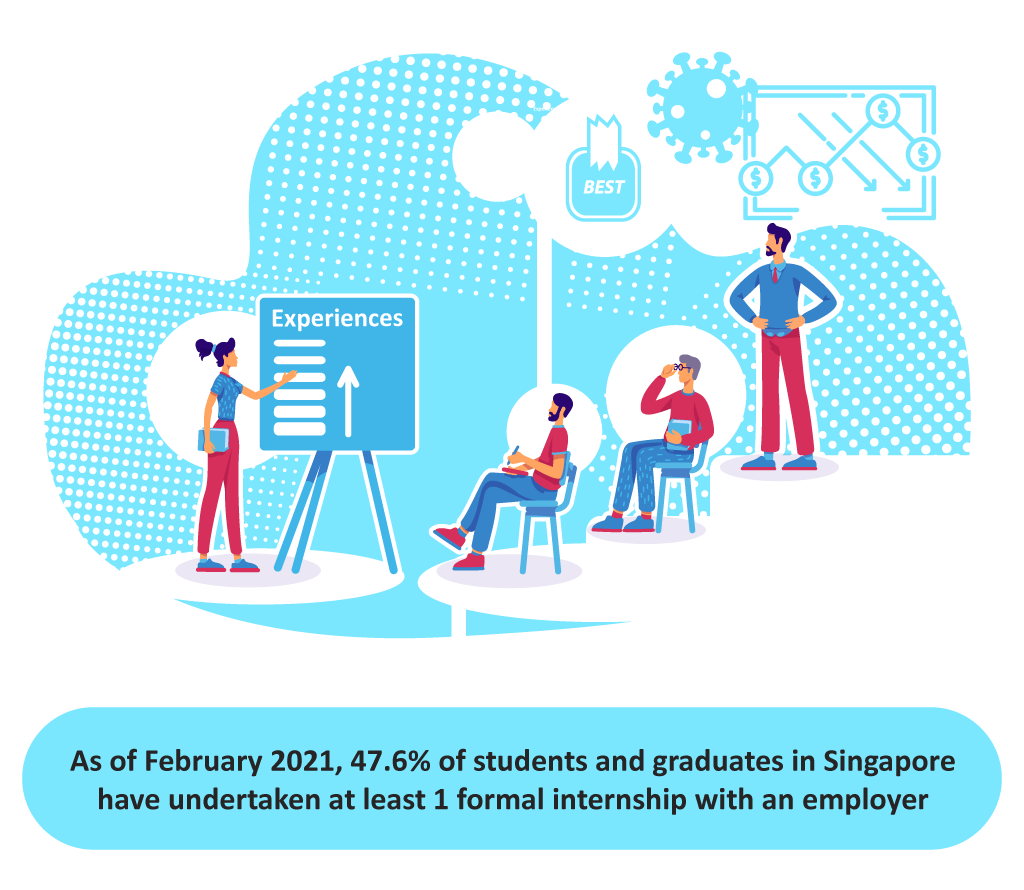 While externships and micro-internships are not commonly characterised separately from internships in Singapore, we expect this could change in the near future. As some employers have already experienced abrupt hiring freezes, they are starting to value the usefulness of offering short-term gigs, assignments, as well as mid-term internships. To facilitate this, employers can allow interns or externs to work remotely (without the need to provide for office space or transport). Further benefits to employers include having a wider range of potential hires, and the opportunity to increase their employer branding within the community. Moving forward, externships can prove to be the preferred way of engaging talents and "exterviewing" (the process of interviewing a candidate through observation of his/her actual job performance) would be the most agile way of validating prospects' capabilities. ).Ok, we admit it, we actually just coined the term "exterviewing" but you get the idea.
Our opinion is that both internships and externships (or micro-internships) should be an integral part of one's career strategy, as the former provides credibility to your resume in terms of valuable job experiences, and the latter is a good avenue to give you exposure to real-world job environments and expand your professional network.
Make Yourself Relevant
In the end(emic), it boils down to the saying "You reap what you sow". To holistically maximise the chance of harvesting your ideal fruits of labour, you will need to learn fast, fail fast, and focus on continuous self improvement. Microlearning and externships are keys that work in tandem to secure full-time employment. Be sure to have them in your arsenal of career advancement strategies to future-proof your career journey!
---
Written by INTERNSG and Gnowbe.
About Gnowbe:
Gnowbe is disrupting the future of talent and work through a performance enablement solution that seamlessly connects strategy, operations and people. As part of it, GnowbeLearn™ was designed to empower busy Singaporeans to learn future-ready skills in just 10 minutes a day, anytime, anywhere to boost on-the-job performance and employability. For more information, visit GnowbeLearn™.