University is a place for us to discover our passion and ourselves apart from studying to achieve good grades. Of course, a journey of self-exploration takes time for one to seek who they want to be eventually.
Even if it means using the entire 4 years of university. Is it too long? Are we going to fall behind our peers who have started?
Well, here's a graduate – Darren Lee and his journey of self-discovery during his university days. He spent 4 years exploring the various versions of himself, seeking his interest/passion before finally finding the route that he wishes to walk in the future.
How did he do it? How many versions of him were there?
With these possible questions that surface, we spoke to Darren, a Structured FX, Rates & Credit Trading MO at J.P Morgan, who shared his story of self-discovery, some interview, and university tips!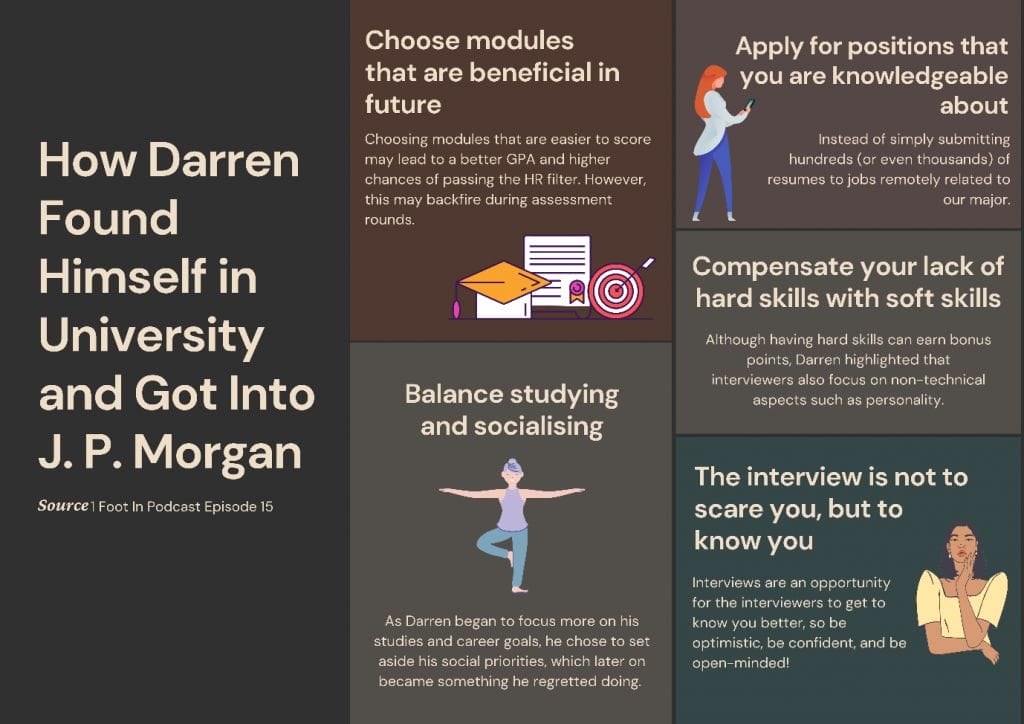 Choose modules that are beneficial in the future.
We believe that most of you have heard of this university 'hack': select modules that are easier to score and can help you pull up your GPA. Some of us will even bounce off advice from our seniors and cross our fingers that we will get such modules.
But Darren chose to skip this hack. Instead of selecting modules with an easier grading system, he chose modules that would benefit him in the future. In the last 2 years of his studies, Darren knew that he wanted to be in the finance industry. As such, he chose to study modules that were relevant to his career direction.
Is he not afraid that such a decision may hurt his GPA if he does not do well?
Darren agreed that choosing the 'easier' modules will lead to a better GPA and can easily pass the HR filter. However, he pointed out that the outcome may backfire during the assessment rounds where one's technical knowledge is usually tested. Despite achieving a good grade, but lacking the technical knowledge/skills, it defeats the purpose ultimately.
As such, he chose to stick to modules that can help build up his knowledge and skillset, which are beneficial in the future. You can tune in to hear more about how Darren went about selecting his modules, and how it benefitted him in the long run.
Have a balance between studies & socialisation.
For someone who has figured out his passion and is also working at one of the well-known banking firms, we assumed that Darren had it all. But turned out, he revealed one thing that he would have done differently back in university.
And that was to balance his studies and socialisation well.
"(I would) take myself less seriously," said Darren, as he explained how his priorities began to shift from Year 3 onwards. He began to be more focused on his studies and career goals. Furthermore, his workload began to increase in his last 2 years.
As such, he chose to set his social priorities aside which was something he wished he did not do. He pointed out that while studies are important, so is socialisation. Darren felt that it would be a wasted opportunity of forming plenty of acquaintances, who may drift away in the future, instead of genuine relationships.
So… to all those undergraduates who have been mugging hard, maybe it is time for you to take a little break from your books and have fun with your friends!!
Apply for careers where you know what it is about.
We have spoken to multiple graduates and they have suggested specific interview tips that can help us such as rehearsing your answers or crafting interview questions.
And likewise, here is Darren's tip which is new and fresh – apply for positions that you are knowledgeable about.
Most of us here will tend to submit hundreds (or even thousands) of resumes to jobs related to our major. But instead of doing that, Darren suggested we choose roles that we like or know what it is about. He shared with us his experience where he applied for a risk management role despite lacking the knowledge and interest.
He then opted for a last-minute 2-day crash course to prepare himself for the interview by reading up about the role. "But it is not something you can learn in 2 days," he recounted. He recalled his confidence peaked at the start but eventually shook with every new question. It was also obvious to the interviewers that his confidence has dipped. To date, this experience stuck to Darren and taught him an important lesson: apply for jobs which you have an idea about or an interest instead of spraying your resumes everywhere.
(You can add this interview tip into your playbook too! If you are wondering what is a playbook, this graduate shared with us his, and perhaps… you can start from here!)
Make use of your soft skills if your hard skills are lacking.
Now, if you have applied for a role where you think you may not stand a chance against other candidates due to the lack of your technical skills, rethink! There's another area where you can leverage to increase your chances!
And that's… your soft skills!
Darren recounted the interview from his first internship with KPMG where he tapped on his soft skills as he lacked the technical skills. Although having hard skills can earn bonus points, he highlighted that interviewers also focus on non-technical aspects such as personality.
He credited his first job which he secured during his first break in university. While some of his peers were interning, Darren worked as a Sales Associate at ZARA. It was the first working experience for him where he picked up various soft skills. He shared how the job increased his awareness of an employer's expectations and taught him how to navigate through the corporate workspace.
So, if you think that the usual route to get a job is to be equipped with technical skills, here's Darren who proved you wrong. Another graduate shared the same sentiments as Darren as she switched to a marketing role despite the lack of relevant technical skills.
The interview is not to scare you, but to know you.
Most of us view interviews as intimidating and the interviewers are there to scare us. But this is not true from Darren's perspective. To him, he views interviews as an opportunity for the interviewers to know one better.
Be optimistic – if you think you lack in an area, ask what you can do to make up for it instead of viewing it as a weakness! One way to make the mood less intimidating is to predict the questions they may ask and prepare your answers in a general approach!
Darren emphasised that an interview is not only to assess whether you are suitable but to also see whether your personality fits the company's culture. It serves as a gauge for the interviewers to know how you will connect with your prospective boss/colleagues. As such, tap on your soft skills to aid you like what Darren has suggested!
Additionally, hype yourself up before you enter the room. Treat it as a conversation instead of an interrogation. Go with the flow, showcase who you are, and form a connection with the interviewers.
"Continue on with your search. Don't be discouraged."
Darren closed off the interview with this line where he encourages us not to be discouraged by the multiple rejections. You are already at your lowest point, and you will not go any lower than that. Use this time to improve yourself, and spend time with your family/friends. When the time for a job opportunity arises, it will come for you.
You can also follow us for upcoming episodes on our podcast which will be featuring fresh graduates who have made it to Amazon, FMCGs, etc.
---
Exclusively written for INTERNSG by: Guang Jin (Grehg) YEO, the creator of the podcast 1 Foot In. The podcast introduces the listeners to someone who has made it into the top/fastest growing companies in the world. From what they did in university, tips & tricks during the resume & interviews and things they wished they could have done if they were to do it all over again.