After graduation, we tend to seek careers which are related to our degrees in university and also gained the relevant experience from our internships. It is unlikely for anyone to make a change in their career which differs from their degree.
However, we spoke to this graduate who made a switch in her career with no relevant degree or internship experience. With only an accounting internship under her belt, and a HR degree, she managed to transit into a new career with these tips: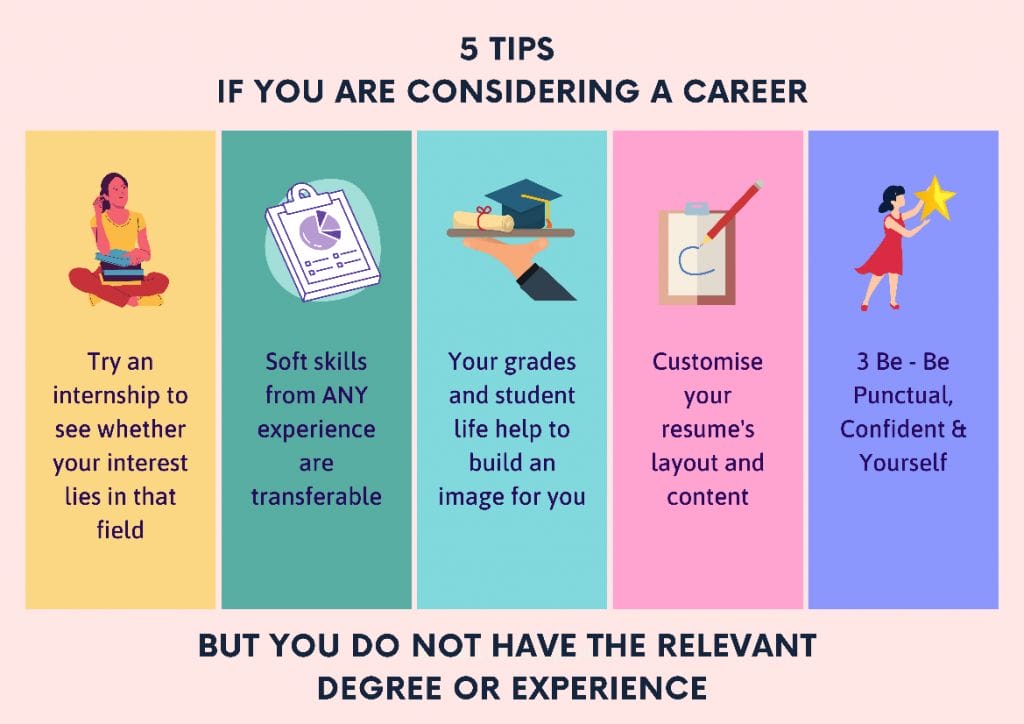 Try an internship to see whether your interest lies in that field.
As an undergraduate, it is normal to assume that you have found your passion in your major through your classes. However, it is advisable to try an internship to experience the role to confirm whether it is something that you like. And that is what this graduate did. Initially, she found her accounting classes boring and dry. To confirm the lack of interest in this major, she applied for an accounting internship and eventually concluded that her second degree was not her passion.
If you think you are facing a similar situation now, fret not. Use this upcoming summer break and apply for an internship related to your major. Try out the role and have a feel of what it is like to work in the industry. See whether the role is what you like or not, or if it is the right fit for you!
You may realize that the working life can differ from your perceptions which you have formed during your course of studies during classes. Who knows! You may end up liking the role! Of course, you may be like this graduate and realize that the current path may not be the right fit for you. But it is not the end! You can try taking up other modules in your next semester, and keep looking for your passion! Just bear in mind that what you study in classes is indeed different from working life, so try not to make decisions based on them.
Soft skills from any experience are transferable.
If you are like this graduate who lacked the relevant experience from an internship, fret not! Remember that your soft skills are equally as important as your technical skills. Additionally, they are transferrable across various careers and are not subjected to only one. This graduate discussed how she displayed her ability to transfer her soft skills from her accounting internship to the management associate role during her interview with NTUC Income.
Showcase your soft skills such as your communication skills, how well you work in a team, or how to take the initiative to do something beyond your comfort zone from any prior working or internship experience. From there, showcase these to the interviewers on how they can be applied in another career despite the lack of relevant experience in the same field.
One way you can start is to identify your strengths and work on developing your soft skills. Soft skills form the foundation of a person, rather than the technical skills. So, it is definitely good to know your soft skills and start building on them, as they are just as essential as the technical skills.
Your grades and student life help to build an image for you.
Apart from internship experience or showing how your soft skills can be transferrable, bear in mind that your grades and student life are equally as important! They help to build your image through your resume when the interviewers are scanning through them.
Having good grades gives you a star-pointer when interviewers are looking through your resumes. This graduate mentioned how her academics was the unique feature on her resume as she was part of the Dean's list. Yes, to be able to get on Dean's list is hard, but do not stress yourself out! Dean's list is one thing, but as long as you have a decent GPA, it is more than enough to show the hiring managers your ability.
Another piece of advice is to attend orientation camps as your seniors may pass you their notes, which are useful for your studies!
Next is to be active on campus grounds. Join school CCAs, events, or even hall activities if you are currently living on campus. One example is participating in your faculty's orientation program. This graduate took part in various school activities from orientation camps to hall camps and even joining her hall's volleyball team. Lively, right? This can be you too!
However, do bear in mind that it can be difficult to balance both your social life and academics. Try to extend yourself, and once you find out how far you can cope, then start cutting back. Do not forget to work hard, play hard too!
With these 2 features (GPA + School Involvement), it will certainly paint a positive image of you as a lively and vibrant individual to the hiring managers, placing you in a spotlight among the other candidates.
Customise your resume's layout and content.
Here's a resume tip that has been commonly used among graduates these days which is customisation!
Design your resume's aesthetics according to the company or industry that you are entering. If you are unsure of how or where to start, she talked about it in the podcast. She recommends adding colours to her resume instead of using the standard black-and-white. At that time, she was applying for a marketing position, and creativity is usually required for such a position. A simple step like adding colours or tweaking features of her resume enabled her to showcase her personality as a bright and creative person, which made her a perfect fit for the role. Our suggestion is to start by using Canva, a website with various resume templates to choose from. In fact, 1FootIn's Instagram is entirely using Canva.
Apart from designing the layout, customising the content of your resume is another! The first thing is to include a short and brief introduction of yourself to let the hiring managers understand you a little, before they continue reading. Next, you can read through the job description of the position first. Understand the requirements, and then refer back to your own personal experience. Identify whether your prior experience matches the job description. Then, prioritize them accordingly by placing all the relevant experience upfront on your resume so that it instantly catches the interviewer's eye.
3 Be – Be Punctual, Confident & Yourself.
You have prepared yourself well for the interview with numerous practice and gathering information on the company's culture, or the job role. All that is left is the 3 'Be's, which are just as essential as your interview's preparation tips!
The first is to be punctual by arriving at least 20 minutes earlier to give yourself time to find the location. There are times where we may panic as we are unable to find the right location, so give yourself the additional time to familiarise yourself with the area. The graduate also shared how you can make use of this time to calm your nerves down. Make yourself a cup of tea or coffee, and take deep breaths. Being calm will definitely do you more good than having the nerves.
Next is to be confident in yourself and give yourself that morale boost before entering the room. You have already done the necessary preparation from practicing the common questions, finding and understanding more about the company's culture. What is left now is for you to believe in yourself that you are able to perform well during the interview. And the last one is to be yourself which is the most important tip. The graduate highlighted that being genuine allows you to assess whether the job is the right fit for you. If you pretend to be someone that you are not just to get the job, you may find yourself dreading to go to work once you understand what the role is like. So, be yourself during the interview! Let the hiring managers know you for who you are, and let yourself be the judge of whether the position is suitable for you. Bear in mind that not every role is a right fit for you, so take this chance to evaluate the job too.
"Don't worry too much. The right opportunity will come."
In life, we do worry about various things. As undergraduates or fresh graduates, we worry whether we can secure an internship or a job. However, these worries will not help us but simply make us more anxious. If the right opportunity has not reached your door, do not be demoralised. You may not find the right fit for yourself. If you have found your passion/interest, give your best shot to ensure that you are the most prepared when the opportunity is presented to you.
If you want to check out more such tips in customization you can listen to this graduate explain how she achieve a 50% interview success rate. Otherwise, you can follow us as we will be releasing more episodes featuring graduates who have made it to Amazon, FMCGs etc.
---
This article is exclusively written for INTERNSG by: Guang Jin (Grehg) YEO, the creator of the podcast 1 Foot In. The podcast introduces the listeners to someone who has made it into the top/fastest growing companies in the world. From what they did in university, tips & tricks during the resume & interviews and things they wished they could have done if they were to do it all over again.