As a German speaking Chinese who lives and studies in Singapore, Wang Jingyi has a global mindset as diverse as her work experiences in companies with American, European and British roots. Having recently completed her RBS investment banking internship, InternSG speaks with this final year student in Nanyang Technological University in Mathematics and Economics on her thoughts and experiences. (You can also read our other write-ups on students in our InternSG's Student Write-up Series.)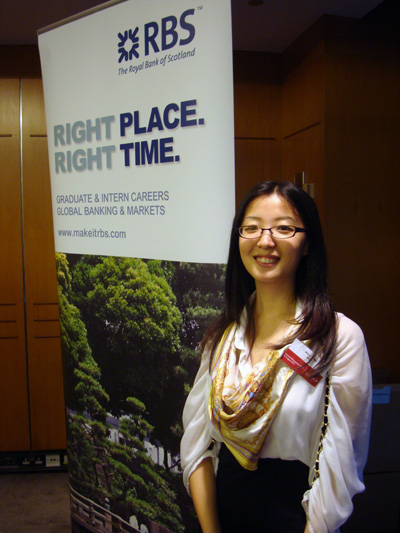 Hi, I am Jingyi and my friends call me Ginny, a name given by my British teacher when in an international primary school. Born and raised in Tianjin, China, I came to Singapore 5 years ago, under the Singapore Government SM2 Scholarship program. Now, I am a year 4 student in NTU, majoring in Mathematics and Economics.
Interested in German culture, I studied the language for 6 years, before becoming vice president of NTU German Society. During my third year, I went for an exchange program to Munich. Then I had the great honor to attend and report on the Berlin International Agricultural Fair. It was very exciting and I even got the chance to interview the German Minister of Agriculture!
Believe or not, before I came to Singapore, my dream is to be an ambassador. Having worked in the United States for 2 months and the European Union Chamber of Commerce, I strife to better understand the diverse world we are in.
In 2011, I had the opportunity to work in RBS investment bank as a summer intern. As a student from non-banking background, the well-structured internship provided me with an in-depth understanding of banking, finance and RBS culture. The first week was dedicated to a financial knowledge workshop which accelerated our knowledge in general finance and complex structured products.
Thereafter I was assigned to the Futures Operations as a Brokerage Analyst. As an intern, we were entrusted with real-life day-to-day responsibilities for equity futures. Despite the heavy workload, my friendly team mates were always ready to help. As a member of such a great team, the workplace almost feels like home.
Besides that, we have a weekly lunch program with an appointed manager (never from the same department) to introduce to us the key roles of their departments within the Bank, followed by a tour of their desks. Thus despite me working in the Futures team, I had the chance to jump out and get a glimpse of Fixed Income, Currencies and Commodities (FICC). The Bank's goal is to fully expose every individual and encourage him/her to try by learning.
At the end of the internship, I have known so many amazing people across different cultures and backgrounds; Chinese, Americans, British, Hong Kong-ers, Indians and Indonesians. These friends have taught me much and integrated me seamlessly into a global culture. These experiences continue to open my mind to the vastness of our world and society. The RBS Investment Banking internship has truly 'made it happen' for me by learning about the international banking industry and beyond.
What is your life philosophy?
Follow your passion and follow hard. As what Will Smith said in the Pursuit of Happiness, "Believe in your dream, even if the whole world says you cannot!"
Can you share with us a particular moment during your internship where you have done more than the job scope assigned?
At RBS, we believe in Corporate Social Responsibility (CSR). During our CSR Charity Event, we interns were challenged to raise as much as possible for two charity groups; Operation Smiles and Riverkids. My team decided to sell weekly desserts (donuts, bubble tea and pies) to RBS staffs every Friday at a small markup. It turned out to be a big hit. Everyone was so supportive that we managed to raise $3000 in 2-3 weeks and made a lot more friends in the process.
I love to do charity and have always been volunteering at Swiss Environment Group Top-to-Top by helping to organize the promotion of green concepts. Therefore I strongly believe in the importance of CSR in every corporation. If everyone does a tiny bit towards a better world, it will be.
Many entrepreneurs have found great success in Singapore. Over the decades, this place has fueled synergy and creativity since the early Asian migrants. Even for the newly settled-in hedge fund manager today, there is a conflux of factors from the aspiring, well-educated workforce to the highly developed infrastructures. In your opinion do you think that Singapore appeals more to foreigners seeking jobs or is more appealing to foreigners who like to set-up a business?
I believe Singapore is equally attractive to both entrepreneurs and foreign job seekers. Her track records speak it all. Despite the notoriously volatile times, the country has kept its vibrant and well-managed capital market almost intact. UBS head of equity has named Singapore a top financial center together with Hong Kong, London and New York. So what does it mean? This is a dynamic market, equipped with a well-educated workforce and a transparent, efficient government – the essentials for both talented job-seekers and entrepreneurs.
MNCs and SMEs alike establish a presence here in order to get a piece of the growth. Wealth management banking and hedge funds flock in to supply a secondary tier service. As a result, the assemble of companies offer fantastic job opportunities in Singapore. As a young job seeker, nothing is better than a good working environment, comparatively high pay, harmonious society, low taxes and the all-year-round sunny days that makes me feel ever energetic. However, one downside may be that it is easier to attract talent than to retain them.
As for entrepreneurs, the low taxes, simple start-up process and extremely entrepreneurial-friendly environment pave a well-laid foundation to kick start a business and sustain it healthily. A senior of mine from China used to study Computer Science in NTU. There he was encouraged to start up a web company. Chest full of ideas, he started 'Singeat' from scratch during year 3. Thankfully he received a great deal of support from both NTU and seed funding the Singapore government initially and today his company is valued at S$10 million. Nevertheless, it is undeniable that Singapore's relatively high labor and capital costs pose a problem for some cost-orientated businesses but in the long run I believe the benefits far exceed the costs.
You have pointed out that Capital is a key factor that sets one apart from a job-seeker and an employer. Yes, without a doubt. But what transcends a monthly five-figure salary employee into the next 'Mogul'?
(According to an Inc. 500 analysis of America's fastest-growing companies, over 40% of the CEOs surveyed had launched their companies with less than $20,000: 14% started with less than $1000 in capital and 27% started with $1000 to $10,000.)
Personally, I think what matters more is Human Capital rather than Asset Capital. If one has the ambition and abilities, he or she will become the next 'Mogul' eventually. Some people need more time to experience a few failures personally, while others may just need guidance along the way to maximize their potential. Having said that, don't we all live to realize ours? And when it comes to the tipping point after countless soul-searching or relentless tutoring, we got to believe in ourselves totally and take the leap of faith. Only then can we know what happens next. For the dreamers, the status quo remains.
How can readers/employers get in touch with you?
Please feel free to drop me email at
---

We hope you like the "Featured Student Write-ups" article series. If you are someone, or you know of someone who has an interesting background (having great excellence in extra-curriculum activities, or possessing special talents, or can write really interesting articles), don't miss this opportunity to be featured in this write-up series on InternSG: the most popular internship portal in Singapore!
Please feel free to with a short executive summary of yourself (or the person you are referring to), and we will get back to you with more information.