In our latest instalment of the Student Write-up Series, we have with us, Jirawat Teiwkittichote, who recently completed his internship with AYF a.k.a. Krungsri Asset Management. He is currently a final year student with Shinawatra University, SIU, a leading international institution in Thailand.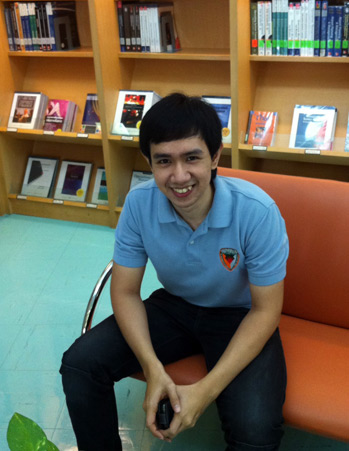 [InternSG] Jirawat, tell us more about yourself.
I'm of Chinese Malaysian heritage and my thinking is influenced by my family's trading business since I was young. I draw inspiration from reading books written by successful people and I aspire to achieve similar success in my life too.
I have a keen interest in financial planning, investing and capital markets as a result of attending a seminar. The seminar made me realise that I will need to become an entrepreneur to achieve financial freedom and dreams in life. This desire spurred me to fully utilise my free time to gain further knowledge in investments on top of my studies.

[InternSG] How did you embark on the internship with Krungsri Asset Management?
Being a business major in SIU means I have to complete an internship in my fourth year of study. The opportunity with Krungsri Asset Management came about when I had shared my ideas on capital markets and investments with our university's President, Mr Kittiratt Na Ranong, who was the former President of Stock Exchange of Thailand, SET. Mr Kittiratt's guidance went a long way in securing this internship for me.
[InternSG] This is a great example of luck, and I mean 'luck' in this very instance of yours is clearly, 'Opportunity met with preparation.' I believe you wouldn't have secured the internship if you were not able to impress Mr. Kittiratt at the moment when you had the conversation with him. This is a great work of passion that led to results for you.
Tell us more about Krungsri Asset Management.
Krungsri Asset Management is also known as AYF, it is one of the leading asset management companies in Thailand under the Bank of Ayudhaya Group, which has been in this business for more than a decade offering a full range of investment products and services to its clients, i.e. mutual funds, provident funds and etc….
Also, AYF provides investment consultation, conducts investment outlook and wealth management seminars. In addition, AYF's are also treated to luxurious lounges when they visit the banks' offices. I would say AYF is a best investment partner that everyone can trust.
[InternSG] That's some selling you are doing for AYF, they will have to thank this write-up for this!
How's the daily routine like during your internship with AYF?
In this internship, I've got a position in marketing department. The marketing department of AYF is similar to other companies' marketing arm in many aspects, such as strategising new product launches, promotions, customer relationship management along with call-centre services.
To be more specific, I'm in a sub-department called, 'Investment Planning', where we act as a planner for customers' portfolios. This department is unique within marketing as it is very much customer-centric. Customers will provide their financial status, goals and retirement plans. Our sub-department will then assess and provide a financial plan that suits their risk profile.
My immediate responsibilities include, following up on customers' appointments for consultancy, establishing a database of prospects from the seminars and workshops we conduct. The more challenging part will be portfolio performance analysis and investment profit calculation, which I have to perform every 2-3 days, i.e. type of fund purchased, unit amount, price per unit. My supervisor designed the formulas which I learnt within a week and applied on my own subsequently.
[InternSG] What's the most exciting aspect of your internship?
The most exciting aspect of my internship is working in a real investment environment. I had many opportunities to meet great people, who are experienced in this field. I realised that meeting these people face-to-face inspired me much more than what I read from books.
Also, it's a rewarding feeling when I see my customers' portfolio growing as this means their retirement plans or financial goals are being taken care of.
In the last week of my internship, I had a chance to do my own financial plan too. The plan acts like my investment guide to reach my desired financial goals.
Lastly, I realised that the working environment is totally different from the classroom!
[InternSG] I'm sure you very much enjoyed the lessons learnt in this internship with AYF. What was the investment idea you shared with your university President, Mr. Kittiratt?
It wasn't much of an idea but rather my perception of investment. My profile is that of long-term investing and I wanted to implement a sustainable growth investment portfolio by combining the wealth management knowledge that I can acquire via a relevant internship.
As we speak, Mr. Kittiratt Na Ranong is now Thailand's Deputy Prime Minister and working in the Ministry of Commerce. His hectic schedule leaves me with little chances of talking to him again. However, I'm glad to have this interview opportunity with InternSG and I plan to send Mr. Kittiratt, this write-up feature to thank him for the opportunities that he had given to me.
[InternSG] It's good to share your aspirations with us and I'm sure your peers will stand to gain some insights from your sharing. This concludes our interview with you. Thank you and how can you be contacted?
I can be contacted at , Cheers!
---

We hope you like the "Featured Student Write-ups" article series. If you are someone, or you know of someone who has an interesting background (having great excellence in extra-curriculum activities, or possessing special talents, or can write really interesting articles), don't miss this opportunity to be featured in this write-up series on InternSG: the most popular internship portal in Singapore!
Please feel free to with a short executive summary of yourself (or the person you are referring to), and we will get back to you with more information.