This week, we have Kenneth from MDIS (Science degree in tourism and hospitality management) featured in our Student Write-ups Series. With his entrepreneurial mindset and sporty personality, Kenneth shares with us his views on interns and careers…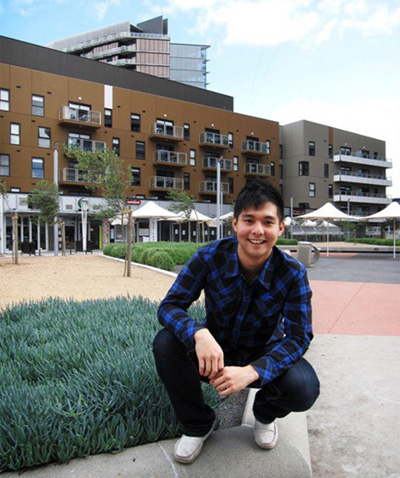 Hi, my name is Kenneth. I'm currently 23 years old. Born and bred in Sunny Singapore. I love to engage in sporty activities such as roller-blading and cable skiing. The nerd side of me delves into a virtual reality playing Warcraft and jamming the buttons of Playstation 3. Like most young people, I love to chill out with friends over a couple of drinks once a while.
My friends tell me that I have a very amicable and outgoing disposition and that I am an efficient problem solver. I guess those are three very important characteristics to possess especially in my field of study. I am attaining my bachelors of Science degree in tourism and hospitality management at the Management Institute Development of Singapore. I chose this course because I prefer to work in a setting where there is a significant amount of interaction between colleagues as well as customers. My Second choice was biomedical science. On hindsight, I believe I made the right choice because I cannot see myself working in a boring and mundane setting – staring into a microscope all day long. No offence!
I like my school for the fact that it allows me to be very independent. Lessons and tutorials take up only a small amount of time because the lecturers want students to come to them on their own accord. This strategy is useful as it benefits students who are keen to learn. It also puts my time management skills to the test. In addition, there are many practical lessons requiring a hands-on approach which are well-catered to me. I am also actively involved in the tourism society of my school. I aspire to one day be my own boss of a club or a restaurant and have already laid out a plan towards that path. After getting my honours, I aim to apply for a management trainee position in a renowned hotel chain. Accepted which, I would carve a niche for myself within the hotel industry. Once I make my mark, I would set aside some money to open up a restaurant or club with the a few partners.
What is your ideal internship? And what kind of roles and responsibilities would you like to see interns taking up in a company?
My ideal internship would be one which allows you to explore different positions and job scopes throughout the company. For example, as an intern at a hotel, it would be good if I could experience working in the front office, housekeeping, F&B, and back office departments within the internship period. This would be the perfect internship because it would allow me to experience what it is like to work in each individual department as well as to find my interest and forte.
I like the thought of being assigned different roles and responsibilities of full-time staff from the bottom up. This comes with the delegation of trust and responsibility like any other colleague, enhancing the working experience. Not only does this essentially forms what an internship is supposed to provide, it also spurs the intern on to be a committed team-player.
From the start of an internship, it is advisable that the company offers positions from the lowest (e.g. Guest Service Officer) so that the intern can observe and learn what is actually happening on the ground. However, as a degree student, it would be great if the company progress to offer leadership and supervisory roles. This will benefit the intern by giving a holistic view of the entire business. This is especially useful as degree students will eventually assume managerial positions in the company.
You just won a plane ticket to anywhere in the world. Where are you going?
Harbin, North-Eastern China. Because I love an adventure!
The Chinese have an appealing, rich culture and tradition. Although Harbin's is based primarily on Han culture, it is unique because of external influences from Russia and Europe due to historical events such as the housing of large Jewish communities in the 1900s.
The weather extremity is another point of interest. Nicknamed 'Ice city', Harbin may experience temperatures of negative 41.4 degrees Celsius in winter! It would be intriguing to see how far I can push myself in the face of harsh and bitter conditions, backpacking around the region to neighbouring less-trodden cities and villages.
Right after graduating from school, you are offered a privileged career in banking ($120k annual). At the same time a venture capitalist would like to invest $1 million with you to start a business and become profitable within 5 years. Which will you take on? Why?
As much as I would like to get my hands on a job that would secure me a decent livelihood, I would choose to take on a million dollar offer from a venture. I am a risk taker who loves a good challenge.
I believe that I have the ability to create a successful business because I have no lack of new ideas and concepts. Together with my hardworking nature, putting time and effort into my own business will definitely yield greater results than taking on an employee role.
Where can you create a whirlwind career, Google or Apple? And why?
Both Google and Apple are top-grossing companies in the tech-arena. With regards to creating a whirlwind career, I would choose apple. Other than being an Apple fan, I believe in the company's ideologies and strategies. It is the world's market leader in creative technology. With the iPod, iPhone and the iPad, Apple have revolutionized the world!
It is the novelty of ideas, emphasis on aesthetic designs and great marketing strategies that drives consumers in Singapore, halfway round the world from the US, to wipe out the iPhone4s in every single store on the day of its launch. The bar has been set high but I am not daunted. I believe if I keep my mind thinking, I will be able to carve out a whirlwind career in this company.
How should readers/employers get in touch with you?
Via email at
---

We hope you like the "Featured Student Write-ups" article series. If you are someone, or you know of someone who has an interesting background (having great excellence in extra-curriculum activities, or possessing special talents, or can write really interesting articles), don't miss this opportunity to be featured in this write-up series on InternSG: the most popular internship portal in Singapore!
Please feel free to with a short executive summary of yourself (or the person you are referring to), and we will get back to you with more information.