Although identifying himself with the financial industry in the long term, Jesse Leow would be hard pressed to give you a concrete answer as to which industry he sees himself in the near future. This might not necessarily be a bad thing, given that his undergraduate course of study at the National University of Singapore leads him to a Business Administration degree with a specialization in accountancy whose broad-based curriculum gives him plenty of room to explore. Having completed his national service duties as a Staff Writer back in February, Jesse explored the InternSG portal (www.internSG.com) and managed to secure a three-month long stint as a Public Relations intern with an established, media consultancy firm.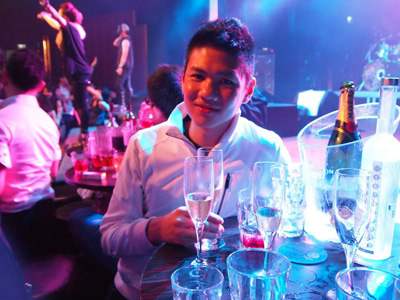 Explaining his decision, the 21-year-old said: "Back then [in February], one prevalent trait I've noticed among my Western-educated counterparts is that they do pursue quite a number of internships even though these internships may be unpaid and can be entirely unrelated to what they are studying. Since I believe that I would have plenty of future opportunities to pursue internships in the finance-related industry, the only criteria I set for myself while I looking for an internship was that it must be different. And I have not looked back since."
Even as he moves on to the next phase of life as an undergraduate, Jesse retains many of the lessons and memories he has forged over the past three months and remains grateful for this internship opportunity. InternSG catches up with this eloquent and amiable intern for yet another insightful interview.
1) Tell our readers more about your philosophy and aspirations in life.
My philosophy in life is still in the process of evolving but I have come to realise the importance of being open minded while having the correct company to gain a valuable second opinion should I face some personal lapses. As life gets more complex, I feel an increasing relevance in the philosophies strongly exhibited by my political idols – key tenets such as the willingness to hard work, standing up for what you truly believe in and being firm on your judgment in people are common to some of my favourite personalities such as Minister Mentor Lee Kuan Yew and former British Prime Minister Margaret Thatcher.
In the near future, I look forward to pursuing my undergraduate accountancy degree at the National University of Singapore because it signifies both promise and opportunities for self-development. While the aspirations I have set myself for that period might be rather simple, they can go on to offer much satisfaction. Clinching one of the many book prizes they offer is as rewarding as spending a term abroad at a top American university. I also hope to take on an internship in a different field every year to enhance my experiences.
2) We very much welcome the idea of pre-university students taking on an internship even before matriculation. What are some of the key roles you have played during the course of your internship?
Even as an intern, I have had my hands in various Public Relations processes from the initial conceptualization of the [F&B] products to the final stages of promoting it so as to get publicity in the targeted media.
While the mid-autumn festival was some time away back then, the mooncake launch by one of our F&B client provided a good example of a project I undertook. Besides researching into the strategy – exotic ingredients used, packaging, and so on – previously used by competitors to assist in our client planning their menu, I have also helped in drafting the press releases. As journalists receive large amounts of emails, I was also glad to help in calling some journalists personally to follow up on the matter in a professional manner.
While finding Public Relations to be a very interesting field, I treasure the exposure and the friendships forged more than anything else.
3) An internship enables both students and employees to gain mutual benefit by providing students valuable work experience on one hand while injecting fresh ideas and enthusiasm into the company on the other. What do you think are some things a business manager can do to best tap on the abilities of interns to realise their maximum potential?
One perspective I have come to develop as an intern is that the way a company treats their interns is a strong but subtle indicator of its internal dynamics. Confining an intern (as opposed to a temporary staff) to mundane administrative work underlies flaws in the HR construct which goes on to question the company's ability to retain good people in a world where talent is highly sought after. Conversely, some of the best companies have found and retained talented staffs through internships which simply entice them to stay on even after their internships. One such example is the "World's Coolest Intern" hosted by Standard Chartered Singapore.
Given that a typical internship lasts anywhere from three to six months, basic textbook methods will work well enough for interns to function at their peak and make good contributions to the company during their stay. Besides constant feedback, proper coaching and a sufficient period of orientation should eventually lead the intern to new learning opportunities through a variety of tasks which he or she undertakes personally. Being receptive to new ideas from the intern's inputs would also be an added bonus.
4) Even though this may be your first internship, it seems to us that you have had a very interesting time. Is there any advice which you think will be of use to first-time interns?
I believe that almost all – if not the majority – of the people on a portal such as this are sourcing internships out of their own accord to further their experience rather than for academic requirements. That being said, there are three things which I feel that could strongly enrich one's experience. Accepting tasks with an open mindset will broaden one's exposure while progressively pushing for more challenging tasks ensures the presence of a learning curve. At the same time, networking is very important for more reasons that I can ever cite.
Having practiced these principles, I can say that I have had a fruitful learning curve in my three-month long internship. One thing which really inspired me was that the Chief Operating Officer offered me a position with the company shortly before my internship stint ended. Although I had to decline it because of my matriculation, I feel that it does reflect very positivity on the faith the management has in me and it will be a good benchmark for me to adapt when undertaking any future internships.
5) Having worked in a Small Medium Enterprise (SME), would you necessarily prefer the environment it has to offer when compared to working in a MNC – traditionally the preferred haven of fresh graduates?
I do not think it is particularly wise to cluster firms as monolithic entities based on their size before comparing them against each other. Two factors which I think are more important are the corporate culture and the industry in which the firm operates. I would choose to intern at an SME with an innovative and passionate culture in the green energy industry over the MNCs specialising in contract assembly even if the latter offered a better pay.
On a more intimate note, I particularly enjoy working in a medium-sized firm because it allows me to fit in amongst my colleagues at a pace at which I am comfortable with while getting a sufficient variety of tasks and exposure. These are some of the concrete benefits of working in SMEs when I compare my work experience with friends who have landed themselves stints at bigger firms even though I recognize that MNCs can offer a more concrete corporate structure.
This luxury is ultimately something I cannot choose in my working life proper given the nature of the finance industry.
6) How can readers/employers get in touch with you?
I can be contacted at
---

We hope you like the "Featured Student Write-ups" article series. If you are someone, or you know of someone who has an interesting background (having great excellence in extra-curriculum activities, or possessing special talents, or can write really interesting articles), don't miss this opportunity to be featured in this write-up series on InternSG: the most popular internship portal in Singapore!
Please feel free to with a short executive summary of yourself (or the person you are referring to), and we will get back to you with more information.