Emma Yin from James Cook University is the new featured student in our 2011 Student Write-ups series. The only child in her family, she came all the way from China's Henan Province to study International Business and Hospitality in Singapore's James Cook University and is now five months away from completing her course.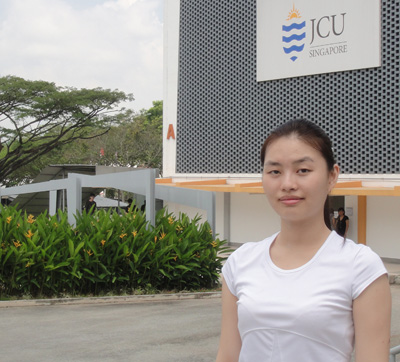 A highly insightful interview with Emma Yin, James Cook University undergraduate…
I am an ordinary girl from Henan province, China. Though I am the only child in my family, my Dad and my Mom decided to send me to this vibrant city in the best interest of my future. They wanted me to be well-educated and successful in life. In hope on this, they were willing to endure the years that I will be spending apart from them. As we all know, separation from family is always difficult. I feel the same. But I want to do well in Singapore. That is why I set my mind to learn as much as possible, know more people and aim to expand beyond my school's environment.
In my free time, I like playing the piano and singing. If there is a chance, I will continue to find time to play my piano and sing. I feel that singing keeps me relax and allows me to express my feelings. The piano adds colour to my songs and makes it richer. Aside from music, I also pursue yoga which allows me to exercise my body and mind. It keeps me refresh and alert throughout the day. Some say yoga is the best exercise and I cannot agree better.
At James Cook University, I major in International Business and Hospitality. I am five months away from completing my course. Besides studying diligently, I also take time to engage in club affairs and get involved in volunteer activities. The best decision I have ever make is joining James Cook University Toastmaster Club. It has brought me an extremely fruitful university life. As the first-year club sectary and second-year club VPE, I saw the transformation of myself from a shy and reserved lady to one who is outgoing, comfortable with socializing and speaking to a group of people.
On the other hand, I spend my leisure volunteering because helping others gives me great pleasure. Last year it was my honour to be a part of the first Youth Olympic Game in Singapore. It was a great experience to see so many talented youths gathered together to realize the success of a single event.
Do you think an internship is vital? What kind of roles and responsibilities would you like to see interns taking up in a company?
Yes, I do agree. I think internship is a key stepping-stone to one's career success. Internships can help individuals cultivate interpersonal relationship in the corporate world; it can also help one understand social knowledge and get in touch with more social opportunities other than career opportunities. In addition, internship facilitates ones' social awareness and helps them mature faster than other fresh graduates.
In my opinion, I would like to see interns holding a role of learners. There are three reasons. First of all, Interns need to learn how to transform their roles from students to professionals. There are great differences between school and workplace, between studying and working, as well as between students and employees. In the process of role transformation, appropriate adjustments are required in one's point of view, behaviour and psychology. Internship can simulate a career experience and it helps interns to understand the professional code of conduct.
Secondly, Interns should understand corporate culture. As a newcomer, the only thing you can do is to keep learning, enriching yourself, and rapidly understand the corporate background, culture and operation. What one can see on the surface is only the tip of the iceberg. Interns should often observe how predecessors work and think, as well as why and how they deal with problems.
Thirdly, it is critical for interns to deepen the understanding of their industry. In the process of an internship, they can confirm whether they like and are capable of the profession or not. If so, interns can consider it a choice profession and pursue it upon graduation.
Right upon graduating from school, would you rather be an Academic or a Corporate raider? One comes with a respectable, stable and gently inclined career, the other a fast and furious, 'show-me-the-money-or-you're-fired' lifestyle.
I'd like to be a corporate raider. Although juvenescence means I am lacking in working experience, from a positive perspective it also means I have exuberant energy, better learning abilities and capabilities. I am in my early twenties and some says it is the best period in one's life to increase personal values through accepting challenges.
Due to my major in international business, it is my dream to compete and survive in the harshest business environment. The brutal 'show-me-the-money-or-you're-fired' lifestyle will serve to strengthen my preparations for the path ahead.
Last but not least, I choose to be a corporate raider because I am a believer in self-reward. My achievements will keep me motivated and striving.
Many youths in Singapore have displayed their creative genius and a limitless energy to pursue their passions. Some even have a strong urge to bring it a step further in starting a business to transform their ideas into profits. But why do most hold-back and end up restricting themselves into the mainstream 9-5 jobs instead of incubating the next 'facebook'?
In my opinion, there are three main reasons – fear-of-failure, lack of confidence and setting monetary rewards as their final goals.
It is broadly believed that in Singapore, most young people with limitless enthusiasm and talent would not lack faith in them. However, to some youths the drive to constantly better continuously eventually reinforces their fear of failure and they fail to breakthrough. This draws a line between those with the resolve and traits of an entrepreneur and those with the abilities to support a business.
Niklas Zennstrom, founder of Skype said, 'when an enterprise becomes successful, it seems he succeed overnight. But no one knows you invested in countless months and years. And all your projects before failed.' As an entrepreneur, if you want to succeed, you not only need to have the spirit of perseverance but also the courage to embrace failures. That is the most essential trait of a successful entrepreneur.
In addition, a multitude of youths give up because they fail to believe in themselves. Most of the time, you are the only one who trust yourself and your decision. It is not uncommon to receive negative feedback from the main-stream people echoing, 'Why don't you give up? Don't you see it makes no sense and leads to nowhere?'
As an entrepreneur, you should not doubt your own decisions. One needs to persist in unchartered terrain to find the truth. It is human nature to do well when approved and appreciated by others; query their decisions or discourage them enough and they will give up their dreams. This is the main reason why most young entrepreneurs in Singapore hold back and end up restricting themselves into the mainstream 9-5 jobs.
Thirdly, a successful entrepreneur will never take making money as their final goal. Indeed business is about profitability and money is a motivation, no doubt. But it is also the motivation of creating something, which proves to the world you can improve lives. It is like pursuing a big dream, something that makes you unrelenting and feeling more satisfied with the process than the result. If your final goal is to become rich, it is much easier to achieve it through being a white collar follower than creating something from nothing.
How can readers/employers get in touch with you?
Feel free to email me at
---

We hope you like the "Featured Student Write-ups" article series. If you are someone, or you know of someone who has an interesting background (having great excellence in extra-curriculum activities, or possessing special talents, or can write really interesting articles), don't miss this opportunity to be featured in this write-up series on InternSG: the most popular internship portal in Singapore!
Please feel free to with a short executive summary of yourself (or the person you are referring to), and we will get back to you with more information.