Rong Lun is pursuing his love of Chemistry in NUS. He is a masters student and actively involved in his faculty affairs. He has no doubts that the most significant experiences are the lessons and social-bonds he gained through extracurricular activities. We are pleased to interview Rong Lun in our 3rd write-up on the ongoing "Featured Student Write-ups" article series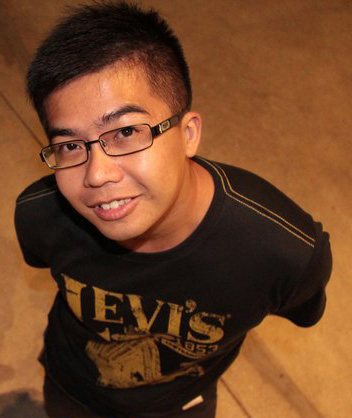 Tell us a bit about your background and interesting life experiences.
In my early years, I was involved with NUS Students' Science Club, a body that cares for the student population in the Faculty of Science. First I served as a Volunteer Corps director and subsequently as Vice-President.
In those years leading a committee to organise various events and hosting VIPs like Members of Parliament, I was given ample opportunities to hone my leadership and soft skills. While academic work was interesting and intellectually stimulating, it was the time and energy spent on extracurricular activities that really defined my university days and made them indelible.
Having said that, I must admit I thoroughly enjoyed academic course as well. Why else would I decide to stay on for a post-graduate programme? The research course in Chemistry trained me to think logically and critically. It also demanded me to carefully design and troubleshoot experiments that allow me to achieve desirable results.
As a teacher-to-be, I hope to share my belief in non-academic development during the pursuit of academic excellence. Everyone can and should be educated holistically. It would be great if my students could continue to inspire others towards a wholesome development in time to come.
What is your ideal internship? And what kind of roles and responsibilities would you like to see interns taking up in a company?
Interns should be allowed to shadow their supervisors or managers for a period of time. This would help them understand the company's direction and the rational for certain actions undertaken by the company. This is an important orientation for interns to find meaning in their jobs and a sense of belonging at work.
You just won a plane ticket to anywhere in the world. Where are you going?
I would be most interested to fly to San Marino. It is one of the world's smallest republics and has plenty to offer in terms of history, culture and scenery. The high altitude in that area is also very different from what Singapore has to offer.
Right after graduating from school, you are offered a privileged career in banking. At the same time a venture capitalist would like to give you $1 million to start a business and become profitable within 5 years. Which will you take?
I would definitely pick up the $1 million deal to start a business. Aside from the profits that could roll in within 5 years, there would be priceless gratifications that can be derived from taking ownership of a successful business nurtured from scratch!
In today's push for green energy, there are numerous alternatives from solar power to wind energy and even nuclear. If you were in-charge of a wealthy emerging country like Brazil, which form of green energy will you pursue?
Having been trained as a nanoscience scientist, the obvious choice for me would be to employ nanoscience to harvest solar energy. It is also important for the country's leader to be knowledgeable in the solution he pursues.
Indeed, nanoscience has only enjoyed limited success thus far. However, instead of viewing that as a disincentive, it should been seen as an under-developed market which has a great room for improvement and Brazil has a huge potential in becoming a global leader in this form of green energy. That would also translate to job creations in the initial phase of development that requires intensive R&D works and subsequent phases of sustained R&D and deployment of technology.
Besides, using nanoscience potentially exerts less stress on the environment especially when compared with the use of nuclear sources (which is deemed as dangerous) and the generation of hydropower (which requires a modification of the natural environment by construction of dams).
How should readers get in touch with you?
Feel free to drop me an email or a message on Facebook!
---

We hope you like the "Featured Student Write-ups" article series. If you are someone, or you know of someone who has an interesting background (having great excellence in extra-curriculum activities, or possessing special talents, or can write really interesting articles), don't miss this opportunity to be featured in this write-up series on InternSG: the most popular internship portal in Singapore!
Please feel free to with a short executive summary of yourself (or the person you are referring to), and we will get back to you with more information.