In this write-up, as part of an ongoing "Featured Student Write-ups" article series, InternSG features an interview with Daynia Lan, who had given up her job last year to pursue studies in the S3 Asia MBA program. The S3 Asia MBA program, is jointly managed by a tri-university colloquium between Fudan University (Fudan), Korea University (KU) and National University of Singapore (NUS), and Daynia is currently studying in South Korea's Korea University.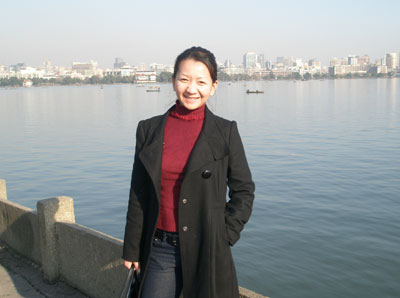 Tell us a bit about your background and interesting life experiences.
After graduating 8 years from Accountancy, I have decided to embark on a new journey back to school. Looking back, I left the audit industry shortly after graduating, knowing that it was not my cup of tea, and ventured into Accounting and Finance since then. Through the years, I have learnt a great deal on-the-job, met and worked with excellent professionals, many of whom I have made good friends. I also observed that other than being proficient in your own expertise, there is strong emphasis placed on a can-do attitude and the ability to work across cultures. One has to be strong in communication and interpersonal skills in order to strive or succeed with globalisation. I have been fortunate and am thankful that I had the opportunity to work in a Regional role. The exposure to various cultures and dealing with different stakeholders across the organisation was valuable.
The idea of going back to school full time was a challenging decision as I had to forgo career advancement opportunities and income. However, I was eventually won over to pursue my dream of being an MBA holder. The allure for full time study was strengthened when I learnt about the S3 Asia MBA program with NUS, Fudan University and Korea University. This is a relatively new program that was launched 3 years ago. Students who embarked on this will study in three different countries for each semester, starting with Shanghai, Seoul and lastly Singapore. The idea of travelling and embracing the culture of other cities was irresistible since I have not lived out of Singapore before. I have now completed my first semester in Shanghai and shall embark on the second semester in Seoul soon. I am sure the experience will be unforgettable like Shanghai!
Your School, Field of study and involvement in school activities
I'm currently studying in the S3 Asia MBA Double Degree program. You can find out more information from this website: www.s3-asiamba.com
What is the best part of your current course/school?
The best part of the program is the exposure. Living overseas and working with different cultures is amazing! I have classmates from India, China, Thailand, Korea and Singapore. Beyond the classroom, we go for weekend road trips and sometimes take a break with a party.
Other key highlights of the program include orientation and companies' visits; to familiarise ourselves with the new school for the semester and also the opportunity to visit local successful companies to gain an insight of their business models.
Your aspirations
Hope to see myself managing a team and be part of the success of the company one day.
What is your ideal internship?
The internship ideally encompasses the learning of the business operations. Thereafter it should empower interns to value add by contributing ideas and executing it. This can be done through engagement in management meetings and work rotation to oversee a project's completion.
And what kind of roles and responsibilities would you like to see interns taking up in a company?
Project Assistants to the Project Manager, Finance related – Internal audits, rotation in different departments
You just won a plane ticket to anywhere in the world. Where are you going?
I would love to go to Nepal, home to eight of the world's ten tallest mountains, including world's highest point, Sagarmatha(Mount Everest in Nepali). A true beauty of nature's creation!
Right after graduating from school, you are offered a privileged career in banking ($120k annual). At the same time a venture capitalist would like to give you $1 million to start a business and become profitable within 5 years. Which will you take?
I will take on the opportunity of carving a new business. It is a great environment for an all-rounded approach and trains one's management skills. The learning curve will be steep, but with the right attitude and great team to work along, I believe the journey will be immensely satisfying. With risk, comes great returns!
In China, will you rather build an intricate railway network or develop an inter-city air travel?
From a business perspective, air travel will facilitate a knowledge-based (service) economy whereas the railways cater better to a goods-based (manufacturing/export-oriented) economy. In China, both inter-city railway and air travel has not been successful in keeping up with the gargantuan economic expansion in the past decade, despite rapid development plans laid out by the government.
It will be useful that they focus on an intricate railway network first. The majority of Chinese are not able to afford costly air travel and many will stand to benefit from an affordable yet efficient transport. Secondly, railways are a great social-economic tool to link up inner-China with the bustling coastal provinces. Though is not a 'fix-it-all', it helps to balance the income inequality gap among cities as factories may relocate to lower cost cities.
How should readers get in touch with you?
I am contactable via email:
---

We hope you like the "Featured Student Write-ups" article series. If you are someone, or you know of someone who has an interesting background (having great excellence in extra-curriculum activities, or possessing special talents, or can write really interesting articles), don't miss this opportunity to be featured in this write-up series on InternSG: the most popular internship portal in Singapore!
Please feel free to with a short executive summary of yourself (or the person you are referring to), and we will get back to you with more information.