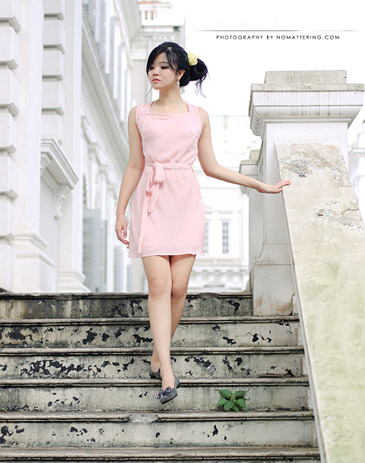 In our ongoing Featured Student Write-ups series, InternSG is very proud to have Jeraldine with us for this interview. Jeraldine Phneah, 20, is currently an undergraduate student in NTU, reading Communication Studies and Public Policy & Global Affairs.
She is now intern-ing at the Prime Minister's Office (Public Service Division).
Hope you enjoy the insights from her in this interview!
Q1. Is there a reason why you keep yourself filled with activities?
I have always believed that holistic development was important. We enter education to grow as a person, not become a unit of labour in society. I was also partly inspired by my father who always invested in my interests outside school and encouraged me to develop a passion for other things beyond the classroom.
When I was young, I felt frustrated with our Singapore education system and wanted more than academic development. So, in my spare time, I spent it on other interesting activities which can equip me with new skills and engaged in new activities outside school. I believe these different life experiences made me a more mature, street wise and "whole" person.
When I am older, I would like to look back and feel satisfied that I had made the most of my youth.
Q2. What are your thoughts about social media?
Media is a very powerful institution in our society and right now, social media increasingly becoming the most popular, effective and relevant.
I believe it is somewhat like a double-edged sword, a powerful tool that can not only be used for commercial purposes but also to spread good causes. However, it can also be used to harm people like to spread negative things about them which may not necessarily be true.
Q3. There are talks about regulation of bloggers in certain countries, due to disputes over the recommendation of products and services to readers in exchange for incentives from vendors. Do you think Singapore should enforce such regulatory over bloggers?
Nope. I believe that most audiences are discerning enough to tell the difference. However, I think as part of editorial integrity, bloggers should mention that their post is an advertorial so that readers can judge for themselves.
Q4. How do you motivate yourself constantly?
I am mainly motivated by competition as I tend to compare myself to others sometimes. The downside is that this approach is often stressful and causes a lot of unnecessary pain.
I am attempting to improve this by focusing on myself and my own growth instead of pegging the standards to those around me. What I do is to write motivational phrases in my organizer and tell myself to do my best because a lot of what I do at this age will determine my future.
Q5. I'm sure life is full or up and downs for everyone, is there a point in time when you were feeling that unhappy? How did you pull yourself out of it?
Yea I did. I am pretty sensitive and take people seriously so sometimes when I am disappointed by things they do, I get really upset. I have learnt to cope with this by seeking help either talking to close friends or searching online for people who have faced similar situations. Social support and talking to others is very effective.
One thing I often remind myself to do is always to have a progressive mindset. I think "Will this matter in 10 years time? 20?"
I always think that it is important to realize that we cannot change what has happened but rather focus on what we have on the present to make the future better. The past can never be changed but the future can be shaped by adjusting what we do in our present.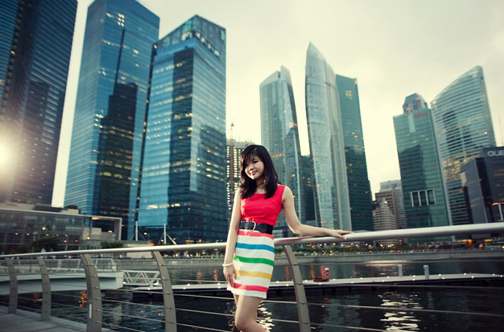 Q6. You have done several internships, share with us a moments that left lasting impressions or life lessons to you.
I learnt to have an open heart and mind. There were a few times in which I didn't get the internships that were my first choice. However, after going in with an open heart and mind, I gained a lot.
For instance, I always felt I wouldn't enjoy Journalism. But, in Home Team News, I worked under a very good leader – Ms. Tracy Sua- who gave me a lot of opportunities to cover big and interesting events. This made the experience worthwhile as it was very good exposure to the Ministry and what it does. I even got the opportunity to explore areas such as Corporate Communications and International Relations with her help.
Q7. Will you be able to share the differences working in a government agency versus the media industry?
I think the pace of life in the public sector is much slower. I worked in an MNC in the media industry and over there, I had work after work and was even given work at 630pm (my knock off time) and told to stay late to finish it! I was very shocked back then before realizing it is a norm. I still believe that Singapore needs to work towards greater work life balance so that we can have a happier and more productive workforce.
I also find the work assigned to me in the public sector less challenging. However, I think it will be different when I get to try more fields. For instance, the work assigned to me by the Strategic Policy Office (where I am now) is very intellectually stimulating and I think I am learning a lot in my current project.
There is also more meaning in what I do in the Public Sector. I find that in the private sector, I am working for profits and that is my only goal. But in the public sector, I find that what I do has meaning, like it will in some way, benefit the people.
Q8. After achieving so much during your school days, what do you look forward to in the next 5 years?
To be honest, as of now, I don't know what lies ahead. I don't really believe in a fixed goal like there is only ONE profession that is right for you We might think we don't like a profession but we won't know if we try as a lot of our impressions of certain careers is based on unreliable sources such as television dramas .
Furthermore, the job you end up with is very likely to be dependent on many unpredictable factors like chance, and that is the nature of the world we live in. Hard work, planning, strategy… they are all important things we've got to do but we've got to be adaptable to unpredictable situations and make the best out of what we have.
I always think that besides having foresight and strategy, it is also good to be adaptable and to see opportunity in whatever situation we are in. As Charles Darwin said "It is not the strongest of the species that survives, nor the most intelligent that survives. It is the one that is the most adaptable to change."
Q9. You participate in community work actively. Have you ever thought of becoming a politician to shape the country and serve the people?
Of course! I love Singapore and so, I would really love a career that enables me to contribute to our society.
But I think I've got a long way to go before I become a good leader and politician. I have some limitations like as of now, I am not confident enough and also lack in depth knowledge on current affairs. All I know is what is written in newspapers and from conversations with people.
I will strive to improve myself in these areas. I think alternative news and speaking to prominent political bloggers is an outlet I can explore. It is also important for me to continue doing community work so I can stay in touch with the ground.
After that, I hope to contribute to our country in terms of public policy be it through research, being a policy analyst or through other means such as joining politics.
Q10. Is there a message that you will like to share with our readers?
The nail that sticks out gets hammered down. Naturally when you do well, some people won't be happy about it and pass jealous remarks or try to put you down. At times it is better not to let these gossips get to you and have a bit of irreverence for what other people think. They don't want the best for you so don't let them control you or have any power over your life.
Also, I think that self-reflection is a very very important part of personal growth. No matter how busy we are, it is important to do this daily as it gives us direction so we don't get caught in mindless doing. Take time to build your intrapersonal skills and getting to know yourself better. =)
Q11. How can you be contacted?
To know more about me, you can visit my facebook or blog at:
www.facebook.com/jeraldinephneah
---

We hope you like the "Featured Student Write-ups" article series. If you are someone, or you know of someone who has an interesting background (having great excellence in extra-curriculum activities, or possessing special talents, or can write really interesting articles), don't miss this opportunity to be featured in this write-up series on InternSG: the most popular internship portal in Singapore!
Please feel free to with a short executive summary of yourself (or the person you are referring to), and we will get back to you with more information.